Crysis 3 multiplayer shown off in new video
Hunter Mode, Crash Site mode and the New York Feed. Oh and a mech.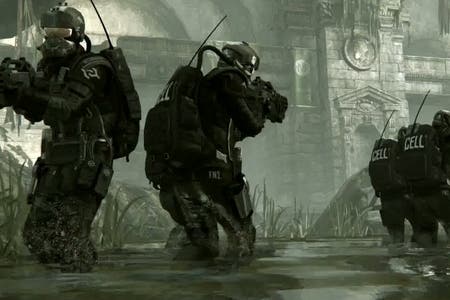 EA has released a new Crysis 3 video showcasing the game's multiplayer.
Detailed are Hunter Mode, Crash Site mode and the New York Feed.
The Crysis 3 multiplayer is 16 players on PC and 12 players on console. Hunter Mode sees two players wear an enhanced Nano Suit equipped with the bow and the rest play as troopers. Kill a trooper and they'll turn into a hunter, until one is left standing.
Crash Site returns from Crysis 2. On PC it's eight versus eight, on console it's six versus six. Each player has a Nano Suit and can select from a pre-determined load out ahead of the match. A drop pod lands on the map at a random location and displays a capture radius. Hang about in it to score points for your team. After a bit, a new drop pod lands at another random location. After 10 minutes the team with the most points wins.
Then there's the New York Feed, which EA calls Autolog for Crysis. It is a dynamically generated top down map of NYC that shows an information flow of you and your friends' in-game actions. Based on that information it'll create custom challenges for you to try to beat your friends at.
You'll also notice the Ceph Pinger, a mech lifted from the Crysis 2 single-player for use as a playable vehicle in the Crysis 3 multiplayer. It's made available by a drop pod at a random location. It can be hijacked if you manage to jump on top of it.