Confirmed: Death Stranding is out this year
And there's a stunning new gameplay trailer.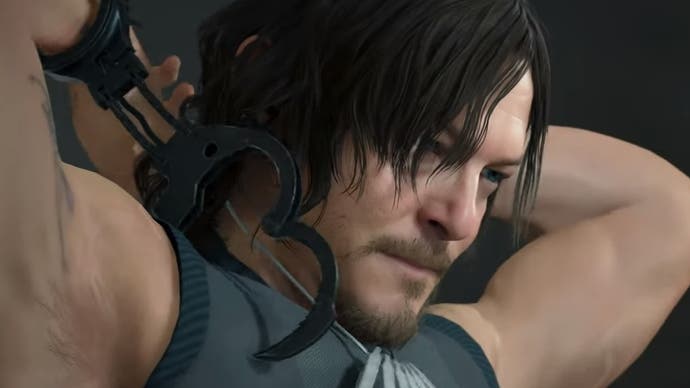 Sony has finally pulled the curtain back on PlayStation 4-exclusive Death Stranding, confirming an 8th November 2019 release date in a stunning new trailer.
The trailer shows a meaningful chunk of gameplay, giving us an idea of the kind of things you'll get up to in the game. We see on foot exploration, backpack management and a snippet of construction - at one point you build a ladder to reach a high area. You can drive around on a motorbike.
There's stealth, as you'd expect from the game by the creator of Meta Gear, fist fighting in which you can knock bits out of other people's backpacks, and third-person shooting.
The video helps to demystify what's been a baffling video game so far. We get more of a sense of the plot and a cohesive world. That weird baby? It looks like it's used to "bridge" between our world and some kind of demon world. Cool!
Over on the PlayStation Blog there's a message from Hideo Kojima:
"People have created 'Walls' and become accustomed to living in isolation.
"Death Stranding is a completely new type of action game, where the goal of the player is to reconnect isolated cities and a fragmented society. It is created so that all elements, including the story and gameplay, are bound together by the theme of the 'Strand' or connection.
"As Sam Porter Bridges, you will attempt to bridge the divides in society, and in doing create new bonds or 'Strands' with other players around the globe. Through your experience playing the game, I hope you'll come to understand the true importance of forging connections with others.
"Now, please enjoy the latest Death Stranding trailer."