Pirates quick to plunder Conan Exiles Denuvo blunder
"There is unfortunately not much we can do..."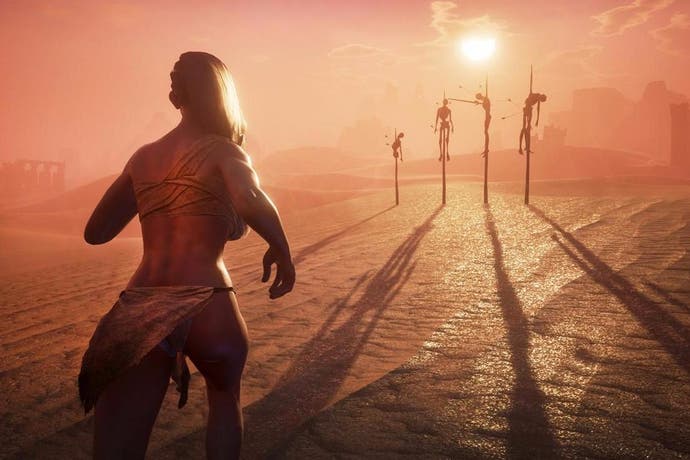 Conan Exiles was released only days ago, Tuesday 31st January, but has already been pirated. Denuvo Anti-Tamper was supposed to protect it.
But unlike Resident Evil 7, which was cracked within a week, shortcomings with Denuvo's Anti-Tamper technology are not to blame.
In Conan Exiles' case, Denuvo Anti-Tamper was temporarily removed - and accidentally. An updated version of the game was suddenly without protection. Denuvo Anti-Tamper returned soon enough, via another update, but not quickly enough. Pirates pounced and the damage was done.
Remember, Conan Exiles isn't solely an online game, which tend to prevent piracy by requiring game versions to match that of the official servers. In Conan Exiles you can host your own worlds and play them alone or with others, or join their private worlds. In other words, a pirate can play the game.
Whose fault was it? Why was Denuvo Anti-Tamper removed?
"Denuvo was temporarily removed due to an error in the build process," Funcom told me this afternoon in response. Eek. I wouldn't like to be that guy.
Incidentally, "the build process" does not go through Denuvo. Denuvo provides tools to build managers so they can apply the Anti-Tamper protection to program executables themselves, Denuvo told me.
So what will Funcom do now?
"There is unfortunately not much we can do about those who choose to download and play unauthorised copies," Funcom said, "but we hope they make the jump to the official version so they can stay up to date with the latest patches and improvements. Being an Early Access title, there will be a lot of updates going forward!"
Regardless of the mishap, Conan Exiles, a predominantly multiplayer survival game, is off to a great start. It's the current best-selling game on Steam, and it's not cheap either, at £27.
Do bear in mind that it is an Early Access title, so there's work to be done, and that there are naked willies flapping around in the game.