Co-op rat-smasher Warhammer: Vermintide 2 is free to play on Steam this weekend
And there's 75% off too.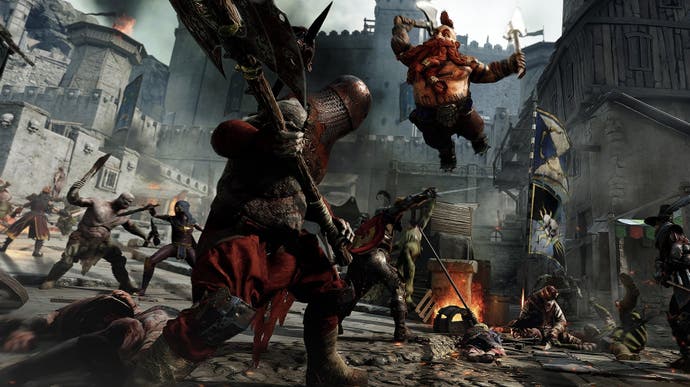 If you've been gripped with a sudden, feverish desire to wallop some magical, man-sized rodents this weekend, but are struggling to locate a suitable outlet for your needs, perhaps you'd like to head over to Steam, where developer Fatshark's enjoyable four-player co-operate rat-smasher Warhammer: Vermintide 2 is having a free weekend.
Vermintide 2 - which is free to try right now until Sunday, 24th November - plays out a little something like a furrier version of Valve's classic Left 4 Dead series. Combat is brutal - full of sword-swinging, axe-smashing, spell-casting, arrow-finging, and even the occasional gun - and the swarming hordes are giant rodent horrors, rather than your usual undead.
The goal is simple enough; four players, each adopting one of five distinct character classes - Bright Wizard, Waywatcher, Witch Hunter, Dwarf Ranger, and Empire Soldier - must make it through to the end. Death is inevitable and co-ordination is key.
The original Vermintide was praised for its frenzied co-op action, and this 2018 follow-up, with all its tweaks and enhancements, even more so.
Dicebreaker's Johnny Chiodini called Vermintide 2 "a sequel done right" in his Recommended Eurogamer review. "It's not overly ambitious or outlandish," he wrote, "instead choosing to build smartly on the solid foundations of its predecessor. New players will find a varied, exciting cooperative melee game - returning players will find the same well honed action, now free of many of the drawbacks of the original."
If that sounds like something you might like to determine for yourself, Warhammer: Vermintide 2 is free to try on Steam from now until Sunday. And if you're sufficiently impressed by its rat-bopping action, the full game is discounted by 75% (it's currently £5.94 instead of £23.79, and DLC is also reduced) until Monday, 25th November.