Catherine Stray Sheep Edition coming to Europe
Costs £55. Includes coasters.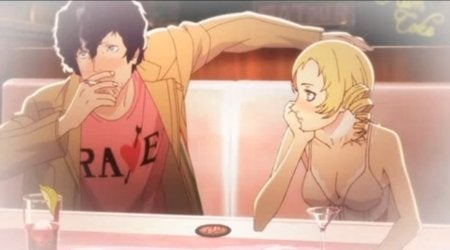 Publisher Deep Silver will release the Catherine Stray Sheep Edition in Europe, it has announced.
The limited edition, named after the Stray Sheep Bar where Vincent likes to unwind, launches at the game's February 2012 release and costs £54.99 - a tenner more than the standard edition.
It includes:
An exclusive T-Shirt that is a replica of the Rave-T-Shirt that Vincent wears in the game.
Two Stray Sheep bar-themed coasters.
A seductive Catherine poster that is exclusively available in this deluxe edition.
A pizza delivery box from the Stray Sheep Bar that serves as the packaging for all the extra items found in the European deluxe edition.
"We wanted to offer Europe's Catherine fans something special and unique, something that was not available before," said Deep Silver's Peter Brolly.
"And with a very competitive price point for the Deluxe edition, we ensure that it's an extremely attractive proposition - just like Catherine herself."
The eye-catching puzzle-platformer has already launched to success elsewhere, with Japanese and US sales of the niche title totalling over 500,000. Developer Atlus previously announced the game was its most successful launch ever.
You play as Vincent, a man who must choose between settling down with Katherine his girlfriend, or chasing the alluring Catherine he finds himself waking up with after a night of partying. The game is punctuated by dream-like puzzle stages, where Vincent is pursued by demonic sheep-like creatures.