The original version of Catherine looks set for PC
Flock to it?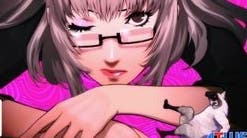 Taken all your Christmas decorations down yet? Here's one last present for PC owners: the original version of Catherine looks set to launch for PC.
Yesterday, Sega teased the PC port on its Steam page for Bayonetta. Today, a PC version of Catherine has been rated by US ratings board ESRB (thanks, Siliconera).
Despite arriving on consoles back in 2011, Catherine has never launched on PC before. Although this is an odd time to release it - as an upcoming enhanced version of the game for PlayStation 4 is just a few months away.
Catherine Full Body will feature a third love interest, extra "sexy events", new cutscenes and... new swimsuit costumes. Double the number of puzzle stages, new mechanics and more will also be included.
Full Body is the definitive version of the game, then, which makes it all the odder it won't be the version which launches first on PC after all this time.
There still isn't a release date for Full Body - it launches first in Japan on PlayStation 4 on 14th February, with a Western release "soon to follow". Maybe this will do until then?