Capcom sells Dead Rising: OTR cheats as DLC
£3.99 for infinite weapon durability, giant heads.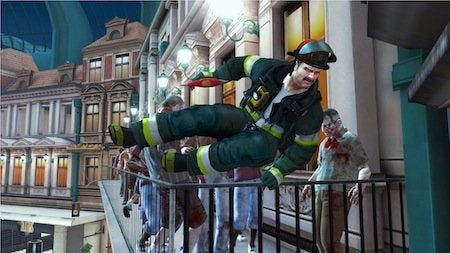 The latest Dead Rising: Off The Record DLC pack adds various cheat modes to Capcom's re-tooled zombie sequel.
Available now priced at 400 Microsoft Points or £3.99, the Gamebreaker Pack lets you toggle the following cheats, as detailed on the Capcom Unity blog:
Infinite weapon durability
Instant PP
God Mode
Super damage
Super speed
Big head mode
Body builder mode
Dumb zombies
Flat Frank
Giant hands
Cinema filters
Also up for download now, the Firestarter Skills Pack offers up the following extras for 160 Points/£0.99:
Immunity to fire damage
Increased speed when carrying or assisting survivors
The ability to kick doors open
New attack and increased durability with the fire axe
Firefighter outfit, complete with moustache
Anyone remember when this sort of stuff was accessed for free via a code found in the back of an old games rag?