Call of Duty: WW2 - PC beta end date, PC system specs, plus Nazi Zombies, multiplayer modes and everything else we know explained
All the info you need on 2017's Call of Duty in one convenient place.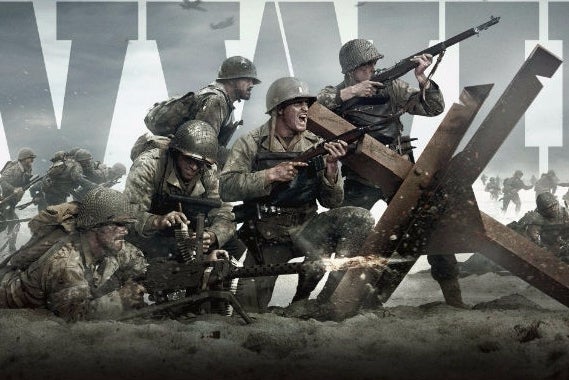 Call of Duty: WW2 is officially out in the open. At the game's announcement details were relatively thin, but the basic things we do know: COD WW2's multiplayer will be as prominent as ever, COD: WW2 Nazi Zombies will be a thing, and the COD: WW2 campaign should deliver all the usual big-budget story beats.
There's also a new Headquarters social hub, new War mode, and the chance to give the game an early go with the private Call of Duty: WW2 beta.
Call of Duty WW2 PC beta end date and PC system specs
We'll get a first proper hands-on with Call of Duty WW2 as part of a beta. On consoles it's been and gone, and now it's the turn of PC owners. to get stuck in.
The Call of Duty WW2 PC beta will start on Friday, September 29th and end on Monday, October 2nd. After that, the next taste of the game will be when it launches November 3rd.
The exact start time is unknown, but if it's like previous betas, we'd guess it will go live from around 6pm UK time.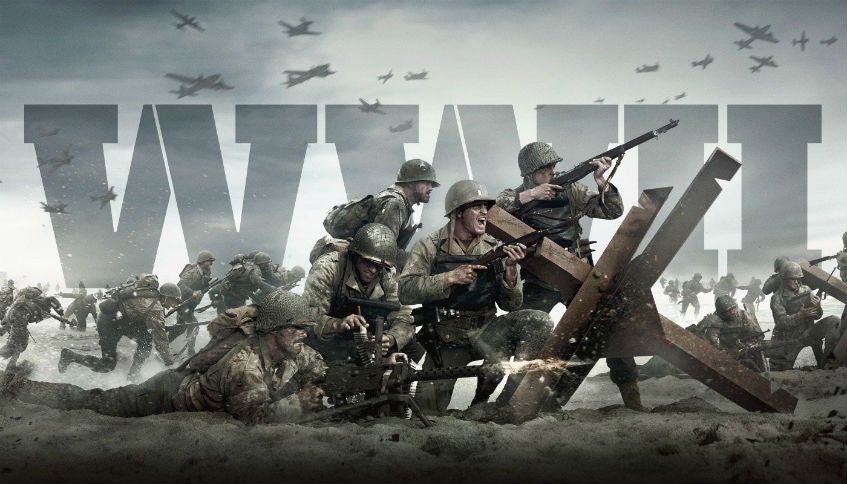 How to get a beta code

Unlike on console, access to the beta is open and free for all users - no need to pre-order on PC to get a code. If you want to play as soon as it goes live, you can pre-load on Steam.

Call of Duty WW2 PC system specs

To play, you need the following minimum PC specs:
OS: Windows 7 64-Bit or later
CPU: Intel Core i3 3225 or equivalent
RAM: 8 GB RAM
HDD: 25 GB HD space
Video: NVIDIA GeForce GTX 660 @ 2 GB / AMD Radeon HD 7850 @ 2GB or better
DirectX: Version 11.0 compatible video card or equivalent
Network: Broadband Internet connection
Sound Card: DirectX Compatible
What is in the Call of Duty WW2 beta

The beta will feature the following:

Additionally, players will be able to take part in Call of Duty: WWII's War Mode. This is an all-new game mode where players must work as a team to defeat the enemy. Allied and Axis forces clash in team-driven assault and defend missions for key strategic objectives.
Maps: At least two, including Pointe Du Hoc, Ardennes Forest
Modes: New War mode, plus Team Deathmatch, Domination, Hardpoint
Divisions: Infantory, Expeditionary, Airborne, Armored, Mounted
Progression: Unlock a limited number of weapons, scorestreaks, equipment and Basic Training features, up to rank 30
And what is not in the Call of Duty WW2 beta:
Headquarters social space
Customisation features Supply Drops and Loot
eSports features such as Ranked Play and Game Battles
Progression, unlocks and experience carrying over into the final game
Call of Duty WW2 beta reward
Playing the beta will give you access to the 'Beta Combat Pack', which includes a unique Helmet, Calling Card and Emblem, for the full release in November.

Again - experience, progress or unlocks won't continue on to the final game.
Call of Duty: WW2 Nazi Zombies
As we get closer to release, we have details on both Nazi Zombies and Multiplayer following few details at the game's announcement.
Nazi Zombies
It's looks like not only Zombies, but the quite literally infamous Nazi Zombies are set to make a return, with similar gameplay from previous Call of Duty installments but with a World War II setting.
This was later confirmed at a Comic-Con reveal in July. Set in a Bavarian village in Mittelburg, it'll start David Tennant (Doctor Who), Elodie Yung (Daredevil), Katheryn Winnick (Vikings), Udo Kier (Melancholia) and Ving Rhames (Dawn of the Dead), each of whom's likeness will be captured in the game.
Call of Duty: WW2 Multiplayer and other modes
Let's get this bit out of the way: COD: WW2's mutliplayer is going to be "boots on the ground."
Here's what we know:
Headquarters - Call of Duty's first dedicated social space, the Headquarters area lets you show off your various levels of prestige and awards. You can also warm up with a firing range, participate in a 1vs1 Pit, watch eSports matches in the Theatre and "man AA guns to earn rewards", according to Activision. Carlton dancing is unconfirmed.
Divisions - Divisions, according to Activision, "immerse players in the heroic journey of enlisting in the world's most historic war." You can choose from a variety of these Divisions, apparently, including both Infantry and Armored Divisions. What those actually are, however, isn't clear - although Armored Division certainly suggest vehicles will play an important part.
War Mode - another new mode, this one appears to draw from Battlefield 1's Operations; large-scale, immersive battles replicating real conflicts themselves from the war. Gameplay is "team-driven" and split between Axis and Allies, based around strategic objectives.
As for how the gameplay itself will flow, although there's been no explicit mention of the specifics like exosuits and the like, all things point to them being left behind.
COD: WW2 will undoubtedly squeeze in some of its usual tropes - it would be astonishing if there weren't killstreaks, for example - and the general flow is bound to still be fast-paced and frantic. Just maybe minus the lasers.
The Headquarters hub, meanwhile, feels like the most significant addition. This is the first time Call of Duty will feature a social area, with 48 players packed into a post D-Day beach and pick up missions, try out weapons at a firing range, emotes and an MMO-style mail system - with the developer comparing the space to World of Warcraft's Orgrimmar.
The likelihood there is that online matches themselves will only have up to 18 players, with just the Headquarters social area hosting more.
The other tidbit we gleaned from that quick look was that the highest rank on show was 55, which suggests that's likely the point at which you'll 'Prestige' and start over again.
Call of Duty: WW2 campaign details
Moving back towards the single-player, and most of the chatter so far has been all about the tone.
COD: WW2, we're promised, is going to be gritty and realistic, at the same time as another "blockbuster" tale. Much of the tone so far has absolutely screamed Band of Brothers, mixed with a little Saving Private Ryan and a generous helping of "Oorah".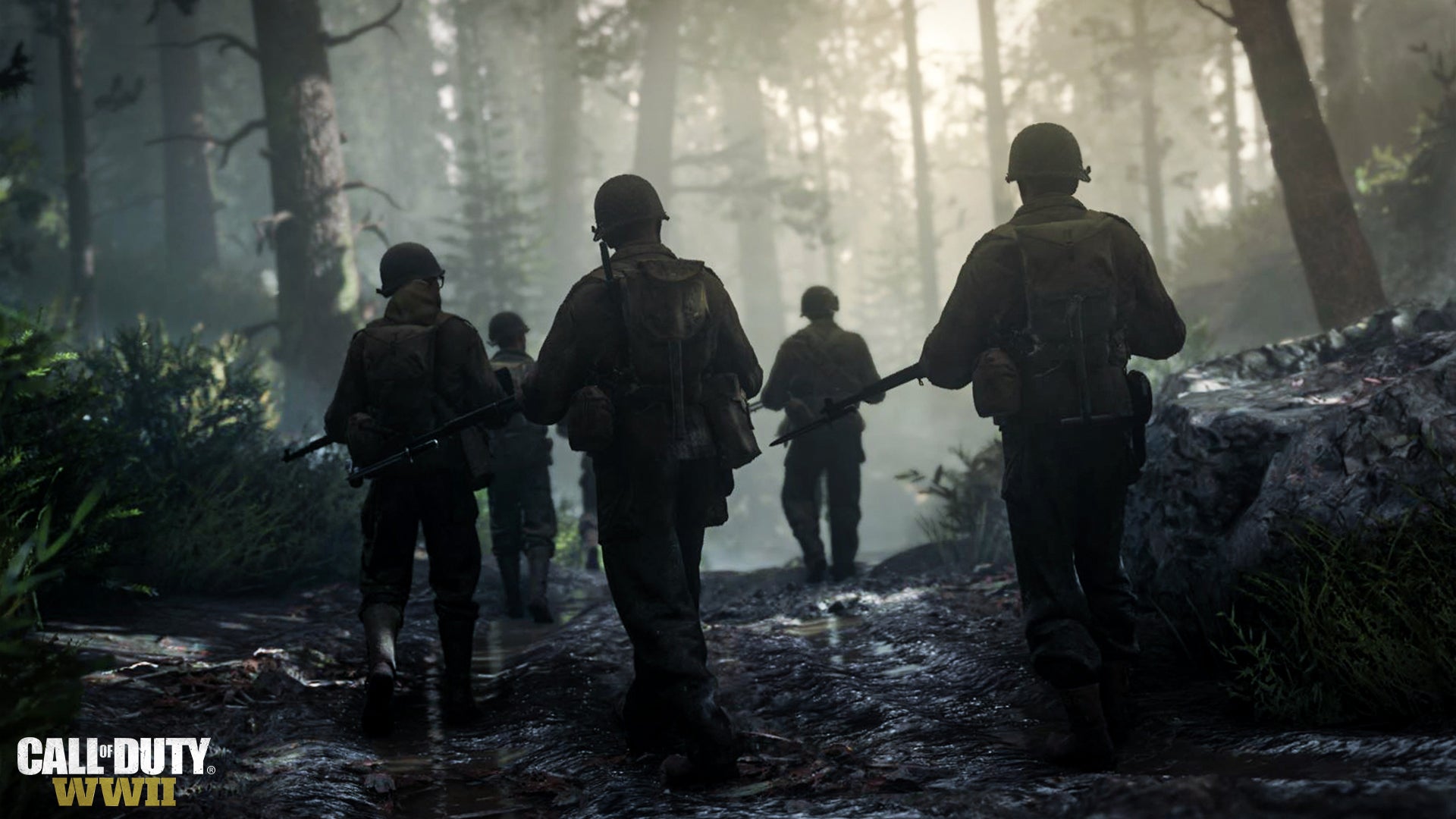 Sledgehammer Games describes its development, meanwhile, as "a journey of inspiration", with plenty of chatter coming out of the reveal event centering on just how important it was for them to get every last detail right.
That being said, it's not the whole of the Second World War that COH: WW2 aims to cover.
The very first mission of the campaign will be another retelling of the Normandy beach-storming of D-Day. After that, it's a largely US-centric account of one specific group of men, albeit with a British officer (heard in the trailer) as a key liason and some occasional departures to deal with other stories from the war.
The period covered is 1944-1945, so the final part of the war - we'd expect another World at War-style downfall of Berlin to feature at the climax.
Call of Duty: WW2 release date, special editions and preorders
The Call of Duty: WW2 release date is November 3rd, 2017 on PS4, Xbox One and PC.
Alongside the standard versions are the Pro Editions, for PS4 and Xbox One, which are all set to release on the same date.
It's not totally clear what the Pro Editions will offer yet, but we do know that they'll include the base game, season pass, and a collectible steelbook and "additional bonus content" at the very least.
We'll continue to update this page as more information on Call of Duty: WW2 trickles out, so stay tuned!
Additional reporting by Chris Tapsell.