Black Ops 4 physical launch sales lowest Call of Duty has seen for a decade
But digital sales improve on last year, and double on PC.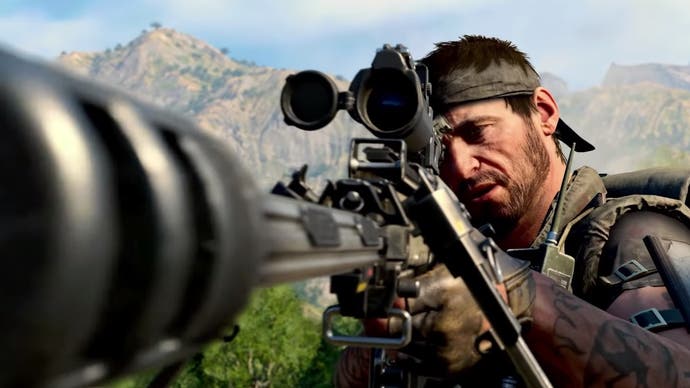 Picking apart Call of Duty's launch sales is an annual activity - as physical sales are tallied up for the official UK chart, while publisher Activision brings out a press release designed to trumpet its own take.
Boxed sales of the publisher's flagship franchise - the metric counted by UK numbers company Chart-Track - have been flagging for years. COD's physical sales peak came with Modern Warfare 3, back in 2011. Every release since then, with the exception of COD WW2, has been part of a notable downward trend.
This year, for example, physical copies of Call of Duty: Black Ops 4 were down 50 per cent on last year's WW2, and down 59 per cent compared to Black Ops 3.
To put the series' overall slide in perspective, Black Ops 4's physical sales are around 10 per cent that of Modern Warfare 3 back in the day.
(Exact sales figures are shared within the industry but Eurogamer cannot make these public.)
But that's only half the picture. Industry-wide, digital sales are making up some - but far from all - of the difference. And, this year, Activision has highlighted how well Black Ops 4 has done in this regard.
Black Ops 4 is Activision's biggest ever digital release - higher than any other Call of Duty or Destiny game to date. Digital sales grew year-on-year compared to last year's WW2, and it was the company's biggest digital launch on all three of COD's formats.
On PC, where the new entry launched on Blizzard's Battle.net for the first time, its launch day digital sales doubled those of last year. Overall, more people connected the game online during its first day than they did with WW2 last year - likely due to the lack of a campaign and the arrival of Blackout.
Do Black Ops 4's digital sales make up the 50 per cent drop in physical numbers? Activision did not say this - and if it could, it would.
This week's chart has Black Ops 4 at the top, followed by FIFA 19 and last week's big new release Assassin's Creed Odyssey. WWE 2K19 is new in fourth place, while Switch-exclusive The World Ends With You: Final Remix landed in 21st.
Here's the full top 10:
Call of Duty: Black Ops 4
FIFA 19
Assassin's Creed Odyssey
WWE 2K19
Forza Horizon 4
Spider-Man
Super Mario Party
Crash N-Sane Trilogy
Shadow of the Tomb Raider
Mario Kart 8 Deluxe