Call of Duty: Modern Warfare and Warzone Xbox One players forced to download 66GB patch to fix weapon graphics glitch
Infinity Ward blames update size on a bug.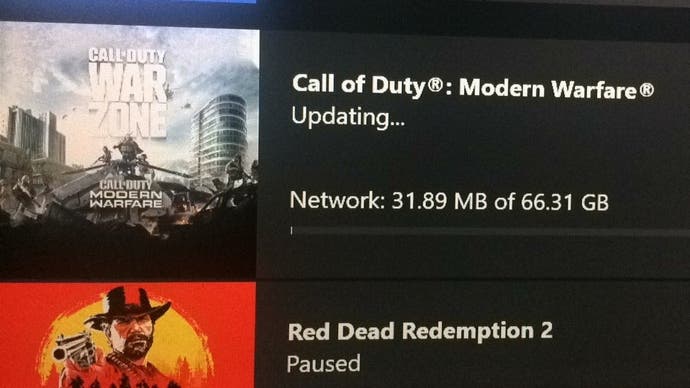 Call of Duty: Modern Warfare and Warzone Xbox One players are being forced to download a massive 66.3GB patch to fix the weapon graphics corruption bug that has been plaguing the game since the launch of Season 5.
PlayStation 4 owners only need to download a 1.2GB patch, whereas on PC, Warzone-only players need to download a 0.88GB patch, and Warzone and Modern Warfare players must download a 1.83GB patch.
Why the enormous difference on Xbox One? "Due to an unforeseen bug with the Microsoft patch delivery process, this download requires Xbox users to redownload files they already have, but it does NOT impact the overall install size," Infinity Ward explained. "We're working closely with Microsoft to ensure future updates are smaller in size."
Post patch, Xbox One players will see an install footprint of 99.5GB for Warzone only, and up to 183GB for the full game.
Call of Duty: Modern Warfare and Warzone has a history of huge downloads, and Infinity Ward has come under fire for the game's install size, which is over 200GB on PC and near that on console.
What makes last night's update even worse is it comes hot on the heels of the 36GB Season 5 update - and Xbox One owners in particular are understandably upset.
"UNFORESEEN BUG? REALLY?" said sethouttanowhere on the Modern Warfare subreddit. "You make me re-download 65gb just a week after downloading them and all you have to say to me is 'unforeseen bug?' Well thanks Activision, thanks Microsoft. Also, some people don't understand that not everybody in the world has a top notch connection. Far from it. Even if you live in developed countries and even if you're economically stable.
"I live in Italy, in a small town on the countryside, and I'd be more than happy to pay for a fast connection, but it's simply not available yet in this place and so I'm stuck with a connection that gives me like 1mbps in download AT BEST, often even less. 66GB for me means I won't be playing the game for at least a day and a half or two. In this case I'm leaving home for 10 days tomorrow and just wanted to play some CoD today. Guess I won't be playing it until two weeks from now. This shit makes me so mad."
Social media hasn't been pretty for Infinity Ward, either.
Infinity Ward had said it was "fast-tracking" the fix for the weapons graphics bug, and clearly the studio was keen to release it as soon as possible. However, some players have criticised the timing of patch, which was released late on Friday night / early Saturday morning.
"That is fucking brutal for all the Xbox players who try to play first thing in the morning and wake up to a 66GB update," WILLx7HEx7HRILL said on the Warzone sub.
For what it's worth, here are the patch notes:
Fix for weapon models (sights and weapons picked up) corrupting on screen
Fix for an error that could occur when selecting "Play Again" option in Warzone
Fixed a bug where players could use the rope ascender through a closed door in Downtown
Fixed an issue where the world model of the Common AUG was appearing invisible in Warzone
The increased map counts in our playlists caused some maps to not appear in playlist rotations. To help them appear more regularly, we're removing the following maps from each mode listed below:
Headquarters - Removing Arklov Peak and Shipment
Kill Confirmed -Removing Aniyah Incursion
Cyber Attack - Removing Aniyah Incursion
Hardpoint - Removing Piccadilly and Aniyah Incursion
Search and Destroy - Removing Rust
Last week, Virgin Media revealed to Eurogamer the huge impact Call of Duty updates were having on its broadband service. The Season 5 update sparked a 60 per cent uplift in traffic on its service week-on-week. I imagine there will be a bit of a spike this morning, too.