Call of Duty: Black Ops Cold War has a Field of View slider on all platforms
I see what they did there.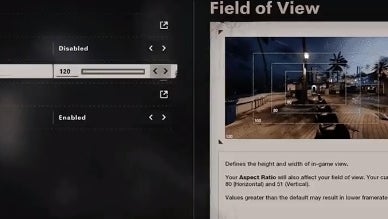 Call of Duty: Black Ops Cold War has a Field of View (FOV) slider on all platforms, Treyarch has announced.
This slider - usually the preserve of PC gaming - lets you define the height and width of the player's view in settings.
2019's Call of Duty: Modern Warfare does not have a FOV slider on console, which led many to accuse PC players of having an unfair advantage during cross-play. So it's great to see this feature come to the console version of Black Ops Cold War - and it will be in the Black Ops Cold War beta that kicks off tonight on PlayStation 4.
Meanwhile, Treyarch said Black Ops Cold War has a new ping system across all multiplayer modes. This lets players ping objectives, loot, locations and enemies for teammates (use d-pad left on controllers or Z on keyboards by default).
Other changes from alpha to beta include an increase in the score reward for a number of objective-based game modes and objective score events "to further incentive playing the objective".
"These changes are in service of rewarding players of all playstyles fairly, whether it's the slayers out in the dunes of Satellite or the OBJ players holding down Hardpoints in the jungles of Cartel," Treyarch said in a blog post.
"Our philosophy acknowledges that players put themselves at considerable risk for playing the objective, and we don't want the risk of losing a streak to disincentivise objective play. At the same time, we want to avoid allowing players to 'game the system' by waiting for streaks to build up before capturing objectives, which is why objectives don't count in streak multipliers."
As for sniper rifles (these were deemed overpowered in the alpha), Treyarch has added aim assist on snipers for controller users (something that hasn't been in Black Ops multiplayer since Black Ops 2) for cross-platform balancing, made sniper glint display more often and more reliably, adjusted the Aim Down Sights (ADS) time, and made it so snipers now require higher hits on the body for one-hit kills (for example, upper chest instead of stomach, or upper arm instead of lower arm). In short: snipers have been nerfed, which is probably a good thing.