Call of Duty: Black Ops Cold War accused of becoming a "Play on PlayStation to win game" after latest Sony exclusives revealed
Unfriendly fire.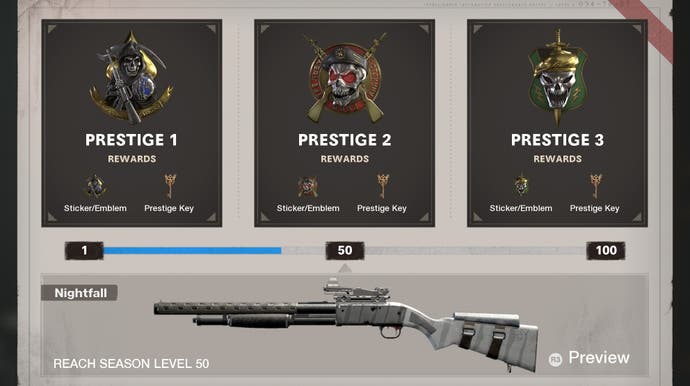 Activision and Sony have been heavily criticised by Call of Duty fans over "anti-consumer" Black Ops Cold War PlayStation exclusivity.
Yesterday it emerged that PlayStation 4 and 5 players of Treyarch and Raven's first-person shooter Call of Duty: Black Ops Cold War get two extra create a class slots, extra tier skips, extra weapon XP and exclusive double XP events.
The Battle Pass Bundle Bonus, as it's called, gives PlayStation players who buy the $20 Battle Pass Bundle an additional five tier skips - that makes for a total of 25 tier skips.
More egregious, however, is the PlayStation Party Bonus. Here, PlayStation players who play together in parties receive +25 per cent bonus weapon XP. (This bonus still counts when playing with cross-platform teammates.)
Then there's a Double XP Bonus for PlayStation players. This involves exclusive Monthly Double XP events that last for 24 hours.
And finally, PlayStation gamers get extra loadouts. PlayStation players get an additional two loadout slots, ready for customisation. This is accessible when Create-A-Class unlocks upon reaching level four.
All this is in addition to a 12-month exclusive on the two-player co-op Zombies Onslaught mode.
Sony said these exclusive benefits and the Zombies Onslaught mode are exclusive to PlayStation until 1st November, 2021.
For many fans, this latest set of exclusives is a step too far, and Activision and Sony have come under fire on social media and in forums for the deal.
On the bonus tier skips, redditor Task_Set said: "It basically just means your money is worth less on Xbox/PC, which is a shitty feeling."
Redditor BenjaminWareing said the loadouts exclusivity "is blatantly anti-consumer to PC and Xbox".
"Last year, an exclusive game mode was lame enough, but it was not game-changing," BenjaminWareing added.
"It was manageable and a somewhat fair trade-off for cross-platform and all that other stuff.
"Now granting two extra create a class slots ONLY for PlayStation players, AND extra tier skips, AND extra weapon XP, AND EXCLUSIVE Double XP events - ALL ONLY FOR PLAYSTATION is crossing the line.
"There is no trade-off, cross-play is a granted, it's just anti-consumer at this point and if it was a consequence of PlayStation's exclusivity deal with Activision, they should bow their heads in shame.
"This is gross and is another stepping stone along the way towards complete player base disenfranchising. This is another stepping stone along the way to losing players to non-predatory alternative games."
For 2019's Modern Warfare, Activision was praised for ditching loot boxes, instead using a battle pass system that meant all gameplay-affecting items, such as new weapons, were obtainable by all for free. All maps are also free for all players.
But this new set of exclusives for Black Ops Cold War has sparked accusations that PlayStation players now have a gameplay advantage because they can level up and unlock gameplay affecting items such as weapons and their attachments quicker than those on other platforms. For a cross-platform competitive multiplayer shooter, this is being called by some pay-to-win.
Or, as Twitter user ChicIsCoolio said: "Call of Duty: Black Ops Cold War is turning into a Play on PlayStation to win game."
"Dude even I'm on ps4 and I think this is complete horseshit," FriedSyrup said.
"My friends won't be able to progress as fast as me and they can't keep up which isn't fair."
"This has gone beyond console exclusivity," TheDavidOfReddit said. "This is Console advantage."
Treyarch recently revealed a new kind of Prestige system for Black Ops Cold War - and indeed Modern Warfare and Warzone. It offers 1000 levels to climb in each Season. There is now concern PlayStation fans have a leg-up in the Prestige grind, also.
There's no suggestion the developers at Treyarch and Raven are behind the PlayStation exclusivity deal. These sorts of deals are usually done between publishers and platform holders, leaving the developers to pick up the pieces. Clearly, Sony sees huge value in Call of Duty exclusives. Given the success of Modern Warfare and Warzone, Black Ops Cold War is set to be one of the biggest games of 2020. Sony wants as many people playing the game on PlayStation - and spending money on its battle pass within its ecosystem. For Activision, which for years came under fire for timed-exclusivity on Xbox 360 Call of Duty map packs, such deals are nothing new.