Call of Duty: Black Ops 3 tops UK chart, 91% of physical sales on PS4/Xbox One
But how does it compare year-on-year?
Call of Duty: Black Ops 3 has unsurprisingly taken the top spot in this week's UK all-formats chart.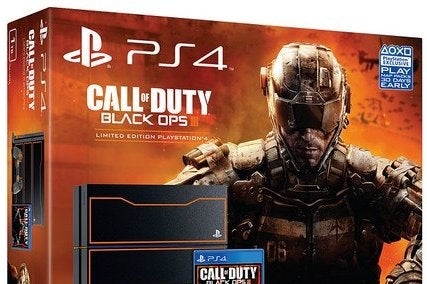 91 per cent of physical sales were on PlayStation 4 (48 per cent) and Xbox One (43 per cent). Five per cent were on Xbox 360 and three per cent were on PS3.
But how well did the franchise perform, year-on-year? UK numbers company Chart-Track does not publish sales numbers and it is difficult to draw a direct comparison.
Like this year's Assassin's Creed Syndicate, Black Ops 3 has switched to a Friday release as opposed to the series' standard Tuesday launch.
Chart-Track notes that Black Ops 3 is only the seventh highest in the franchise for week one revenue. This will have been affected by the change of launch day, although it is difficult to say by how much.
What can be said is that many, many more people bought the game for current-gen consoles compared with last year's COD: Ghosts. Then, only 68 per cent of people plumped for the PS4/Xbox One builds.
It all begs the question - when should publishers stop supporting last-gen consoles? Johnny and myself discuss that very topic in this week's Eurogamer Show, below.
In other chart news, EA's Need for Speed reboot launched in third place, behind FIFA 15 in second. Halo 5 fell from first to fourth, while Assassin's Creed Syndicate was fifth.
The full rundown follows:
UK all-formats chart top 10
Call of Duty: Black Ops 3
FIFA 16
Need for Speed
Halo 5: Guardians
Assassin's Creed Syndicate
Minecraft: Story Mode
WWE 2K16
Grand Theft Auto 5
Lego Dimensions
Call of Duty: Ghosts