Call of Duty 4: Modern Warfare is now backward-compatible on Xbox One
Remastered version currently on sale.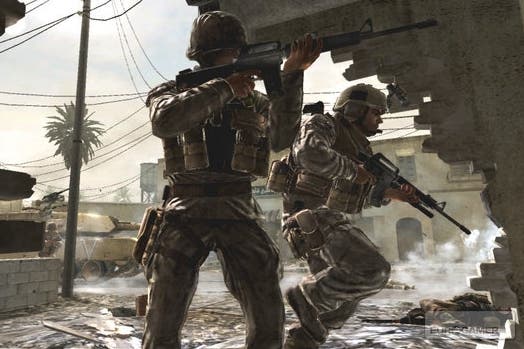 Microsoft has revealed that the latest addition to its ever-expanding list of backward-compatible games on Xbox One is Call of Duty 4: Modern Warfare.
Modern Warfare released back in 2007 on Xbox 360, PS3, and PC, and was notable for being the first Call of Duty to break away from the series' usual World War 2 setting. The shift proved enormously successful - not only was the game well-received by critics and fans, it also marked the start of the series' meteoric rise in popularity, and eventually sold over 15.7 million copies.
"All you really need to know," said Kristan Reed in his Eurogamer review, "is this a huge return to form for the Call of Duty series, and for war-based FPS titles in general. Even without the vastly impressive multiplayer elements, Modern Warfare would be worth buying for its outstanding single-player campaign. It succeeds not only for being consistently spectacular, but for the way it has been crafted into something that keeps you engaged right to the very end."
If you happen to have your original Xbox 360 disc copy of Call of Duty 4: Modern Warfare lying around, you simply need to stick it in your Xbox One and away you go. You can also purchase a digital version of the Xbox 360 game on the Xbox Store.
Alternatively, Activision's 2016 Xbox One remaster of Modern Warfare is currently discounted as part of Microsoft's Spring Sale. Right now, you can pick it up for £24.49 instead of the usual £34.99. Xbox Live Gold subscribers, meanwhile, can grab it for £20.99.