Buying 007 Legends today? You'll have to wait until 9th November to play Skyfall, the "integral" final mission
SPOILERS.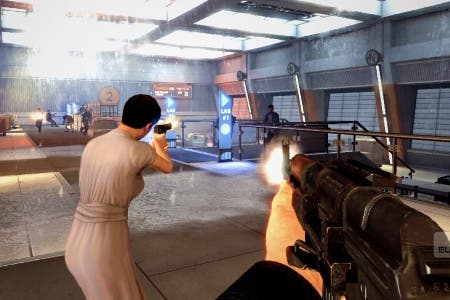 Buying 007 Legends today? Be aware you'll have to wait until 9th November to play the final mission, based on new Bond movie Skyfall.
Activision confirmed to Eurogamer that the sixth and final campaign mission in the game launches as a free download on all platforms on Friday, 9th November. That's three weeks after the game launches here in the UK for PlayStation 3 and Xbox 360.
Activision did not include the Skyfall mission in order to avoid spoiling the film, which goes on general release in the UK next Friday, 26th October. Perhaps we have to wait because the film does not release in the US until 9th November.
007 Legends includes five classic Bond-inspired missions as well as the downloadable mission based on Skyfall. Developer Eurocom described the final mission as "an integral part of 007 Legends' story".
"The action from the film bookends the other missions and we've built the overarching narrative of the game around a pivotal event that occurs early on in the film," explained Eurocom's Rob Matthews on the PlayStation Blog.
"During the Skyfall mission, we visit two striking locations that have been faithfully recreated from the film, and we also feature some of the film's fantastic acting talent, including Daniel Craig as Bond."
The films that make up the other five missions featured in 007 Legends are Goldfinger (1964), On Her Majesty's Secret Service (1969), Moonraker (1979), Licence to Kill (1989) and Die Another Day (2002).
Further complicating matters, Sony has secured an exclusivity deal for the Skyfall DLC mission in the US. There it launches on PS3 on 9th November and on 20th November on Xbox 360.
The PC version of 007 Legends is due via Steam on 2nd November and the Wii U version is due in December.