UK chart: FIFA 13 scores fourth week top, 007 Legends in 12th
Skylanders, Doom 3: BFG Edition in top 10. Dance Central 3 flops.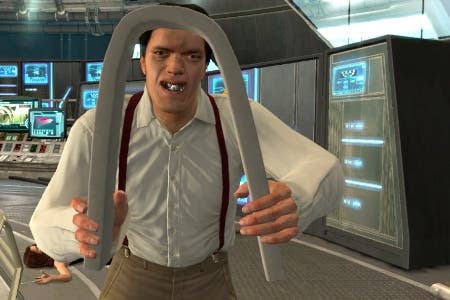 FIFA 13 remains top of the UK all-format charts for a fourth week, seeing off competition from toy phenomenon Skylanders Giants and Bethesda's Doom 3: BFG Edition.
EA's annual football title has already defended the top spot from the launches of Resident Evil 6 and Dishonored. Skylanders entered second, while Doom 3 was fifth.
James Bond shooter 007 Legends was the only other new title in the top 40. The Skyfall tie-in managed 12th place despite a somewhat poor reception.
Spare a thought for Harmonix's Dance Central 3 - it failed to make an impact in the chart at all. The Kinect-exclusive game faces stiff competition from Ubisoft's Just Dance 4 (in fourth this week, behind Dishonored in third).
Pokémon Black 2, Resident Evil 6, Borderlands 2, Pokémon White 2 and XCOM made up the rest of the top ten.
The full chart lies below.
| This Week | Last Week | Title | Platform(s) |
| --- | --- | --- | --- |
| 1 | 1 | FIFA 13 | PS3, Xbox 360 |
| 2 | New entry | Skylanders Giants | PS3, Wii, Xbox 360 |
| 3 | 2 | Dishonored 2 | PC, PS3, Xbox 360 |
| 4 | 6 | Just Dance 4 | PS3, Wii, Xbox 360 |
| 5 | New entry | Doom 3: BFG Edition | PS3, PC, Xbox 360 |
| 6 | 3 | Pokémon Black 2 | DS |
| 7 | 4 | Resident Evil 6 | PC, PS3, Xbox 360 |
| 8 | 8 | Borderlands 2 | PC, PS3, Xbox 360 |
| 9 | 5 | Pokémon White 2 | DS |
| 10 | 7 | XCOM: Enemy Unknown | PC, PS3, Xbox 360 |
| 11 | 9 | F1 2012 | PC, PS3, Xbox 360 |
| 12 | New entry | 007 Legends | PS3, Xbox 360 |
| 13 | 10 | The Elder Scrolls 5: Skyrim | PC, PS3, Xbox 360 |
| 14 | 14 | Rocksmith | PC, PS3, Xbox 360 |
| 15 | 12 | PES 2013 | PC, PS3, Xbox 360 |
| 16 | 15 | New Super Mario Bros. 2 | 3DS |
| 17 | 11 | Sleeping Dogs | PC, PS3, Xbox 360 |
| 18 | 19 | Lego Batman 2: DC Super Heroes | DS, PC, PS2, PS3, PSP, Wii, Xbox 360 |
| 19 | 13 | Forza 4 | Xbox 360 |
| 20 | 16 | Gran Turismo 5 Academy Edition | PS3 |
| 21 | 20 | Dead Island: GOTY Edition | PC, Xbox 360, Xbox 360 |
| 22 | 17 | Call of Duty: Modern Warfare 3 | PC, PS3, Wii, Xbox 360 |
| 23 | Re-entry | Rage | PC, PS3, Xbox 360 |
| 24 | 21 | Darksiders 2 | PC, PS3, Xbox 360 |
| 25 | 25 | Super Mario 3D Land | 3DS |
| 26 | 23 | Angry Birds Trilogy | 3DS, PS3, Xbox 360 |
| 27 | 31 | Call of Duty: Black Ops | PC, PS3, Wii, Xbox 360 |
| 28 | 24 | Mario & Sonic: London 2012 Olympic Games | Wii |
| 29 | Re-entry | Kinect Disneyland Adventures | Wii |
| 30 | Re-entry | Brink | PC, PS3, Xbox 360 |
| 31 | 32 | Assassin's Creed: Revelations | PC, PS3, Xbox 360 |
| 32 | 18 | NBA 2K13 | PC, PS3, PSP, Wii, Xbox 360 |
| 33 | 26 | Max Payne 3 | PC, PS3, Xbox 360 |
| 34 | 30 | Uncharted 3: Drake's Deception | PS3 |
| 35 | 29 | Skylanders: Spyro's Adventure | 3DS, PS3, Wii, Xbox 360 |
| 36 | 22 | LittleBigPlanet | Vita |
| 37 | 36 | Mario Kart 7 | PS3 |
| 38 | 33 | Sonic Generations | 3DS, PS3, Xbox 360 |
| 39 | 28 | The Amazing Spider-Man | 3DS, DS, PC, PS3, Wii, Xbox 360. |
| 40 | Re-entry | uDraw Studio | PS3, Wii, Xbox 360 |