Broforce gets an official The Expendables 3 crossover
Introducing The Expendabros, a free standalone game.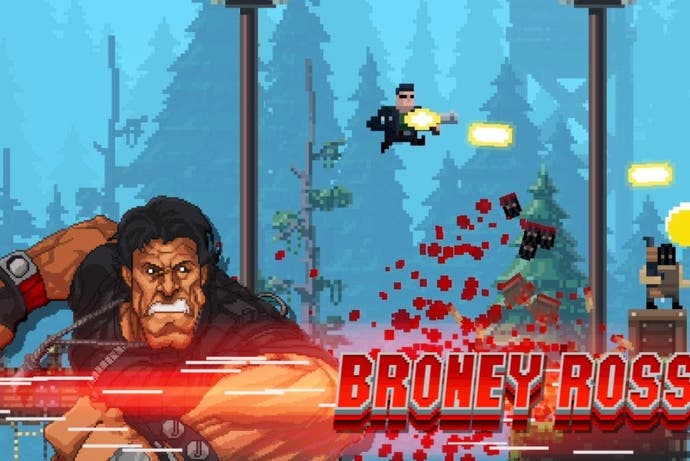 The first time we covered Broforce I noted that it's "what The Expendables game should have been." Well, someone at Lionsgate had a similar idea and decided to collaborate with Broforce developer Free Lives to create a free promotional spin-off of the testosterone-mad shooter that's a crossover with the upcoming The Expendables 3.
Entitled The Expendabros, this standalone PC crossover sees players assume the role of The Expendables 3's various action stars as they fight through 10 stages of destructive mayhem in an effort to take down Mel Gibson's improbably named villain, Conrad Stonebanks.
Like Broforce proper, The Expendabros will feature local co-op for up to four players.
Since The Expendabros is only a promotional item, it has a limited run and will be removed from Steam on 31st December.
Broforce is still in Steam Early Access for PC and Mac. Our 80's action movie aficionado Chris Donlan waxed flowery about the Broforce beta in December. More importantly, Robotron and Defender developer Eugene Jarvis sung his praises of Broforce in a correspondence with Eurogamer where he called it "Mario meets Defender meets Duke Nukem you gotta love it!!!!" He was specifically enamoured with its "gratuitous explosions up the ass!"