Borderlands 3 getting another level cap increase this week
Plus more on April's seasonal event and Mayhem 2.0.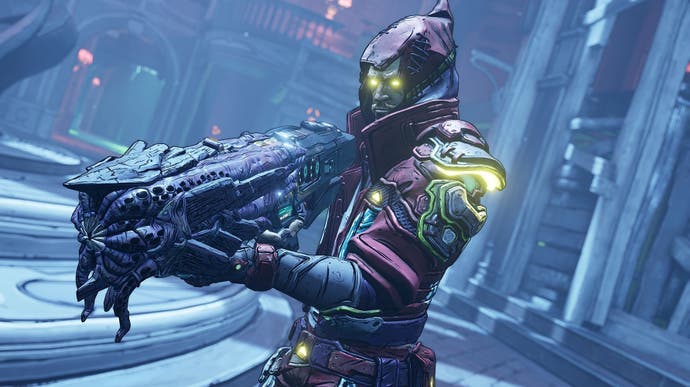 Borderlands 3's new Guns, Love, and Tentacles paid story DLC arrives this Thursday, 26th March, and Gearbox has now confirmed it'll be accompanied by another level cap increase for all players. And for those eager to peer even further into the future, there are more details of the game's upcoming new seasonal event and Mayhem Mode 2.0.
As of Thursday, Borderlands 3's level cap will rise from 53 to 57, providing all players will four additional skill points and the option to equip two capstone abilities at one time. There's also a new Twitch extension arriving as part of the free update (which grants new interaction opportunities to streamers), but the next batch of big, exciting stuff isn't due until April.
Come next month, Borderlands 3 will usher in its free six-week-long Revenge of the Cartels seasonal event, requiring players to assist their pal Maurice by picking off Joey Ultraviolet's neon-draped henchmen all across the solar system. Defeat enough and players are granted access to the swanky new Mansion map to confront Joey and his goons directly.
Gearbox says enemy encounters in The Mansion will change depending on which of three distinct gangs currently rule over the Cartel, with each dropping unique loot and Anointed parts to encourage replay. There're also numerous Cartel-themed Challenges to complete, unlocking special event gear, including some 80s-themed Vault Hunter cosmetics.
April also brings Borderlands 3's big Mayhem Mode 2.0 endgame overhaul, now available via its own ECHO tab so players don't need to return to Sanctuary III to make adjustments. Gearbox's tweaks mean there'll be 10 Mayhem levels to conquer, plus 25 new Mayhem Modifiers, each classified by the degree of challenge they bring to the game. Additionally, Mayhem levels determine the quality of loot received, with higher levels rewarding better stats.
Gearbox says more details will be shared closer to release, and those hoping for a breakdown of this Thursday's additions - including an extensive look at the new Guns, Love, and Tentacles story DLC - can check out the developer's latest Borderlands Show episode above.