Watch 12 minutes of Borderlands 3's Guns, Love, and Tentacles campaign DLC
Ahead of its release next week.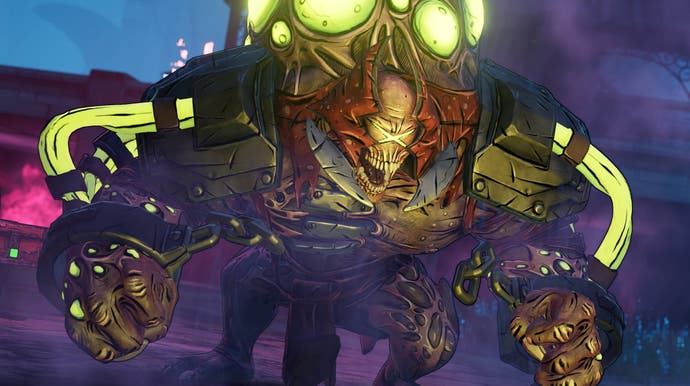 Love is in the (decidedly chilly) air in Borderlands 3's second paid DLC episode - titled Guns, Love, and Tentacles: The Marriage of Wainwright and Hammerlock - and in the run up to its Xbox One, PlayStation 4, and PC release on 26th March, Gearbox has shared its opening 12 minutes of gameplay for those impatient sorts.
Guns, Love, and Tentacles begins as guests descend on the ice planet of Xylourgos for the wedding of the century. There are returning characters (including Borderlands 2 vault hunter Gaige), nefarious cultists, plus an army of Lovecraftian horrors threatening to ruin Sir Hammerlock and Wainwright Jakobs' big day - some of which you can see in the video below.
Those that manage to complete Borderlands 3's second DLC episode will receive new Vault Hunter Heads and Skins, new Legendary items, interactive Room Decorations, and more.
If you've been swayed by those opening 12 minutes, Guns, Love, and Tentacles will be available for purchase separately come 26th March or as part of Borderlands 3's £39.99 season pass. The latter will ultimately provide access to four new story episodes, including last year's Moxxi's Heist of the Handsome Jackpot and a currently undetailed third instalment due this summer.
Guns, Love, and Tentacles will be followed by Borderlands 3's Mayhem 2.0 end-game update in April - which includes over 25 new modifiers, ranging from a big head mode to The Floor is Lava - alongside another free limited-time event, Revenge of the Cartels. May, meanwhile, promises a new Eridian-themed Takedown and challenging new bosses.