Black Ops Nuketown map recycled for BLOPS2 Limited Edition Pack
Classic map to get futuristic remake.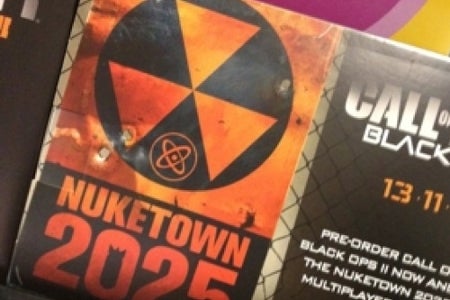 Activision will offer a Limited Edition pack for Call of Duty: Black Ops 2 that includes a new version of Black Ops' Nuketown map.
Nuketown, one of the most popular maps in the original Black Ops, will be updated for Black Ops 2's futuristic setting. The level's new look means it may as well have a new name - Nuketown 2025.
An advert for the deal, posted online by IGN, claimed the offer was the "biggest incentive in Call of Duty history". It will help drive pre-orders and day one sales, Activision's blurb explained.
The bonus was spotted at Irish retailer Xtravision. Which other shops will be taking part is unclear.
We've contacted Activision for more details and will update if we hear back. Call of Duty: Black Ops 2 launches on 13th November for PC, PlayStation 3 and Xbox 360. A Wii U version is also likely.