BioWare tweaks Anthem's "loot drop rate"
Juicy Loot.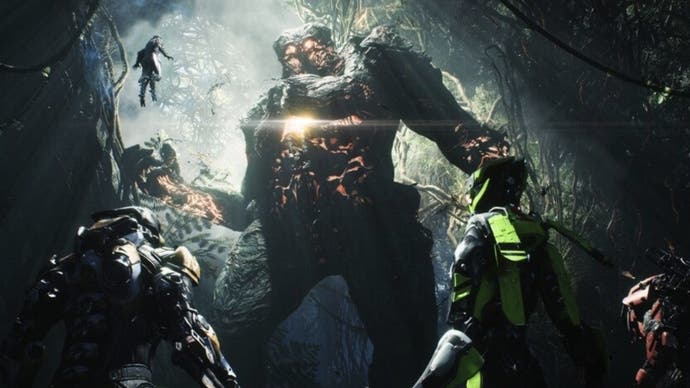 EA has confirmed that it's made "some notable changes to the loot drop rate" in Anthem.
Whilst only divulging that the changes were coming to "specific scenarios", the short-n-sweet update on the official website confirmed the server-side update (which means you don't have to download or apply it to your local system) would immediately boost the chances of top-tier gear drops at the game's highest difficulty levels... as well as some improvements for the hardest enemies on any difficulty setting, too.
"In the latest server-side update, we've made some notable changes to the loot drop rate in specific scenarios, which will take effect immediately in a server-side tuning update," EA said. "These changes include: Masterwork & Legendary drop rates have been increased for Grandmaster 2 and Grandmaster 3 difficulty levels, and Masterwork & Legendary drop rates have been increased for harder enemies at all difficulty levels. This includes: Legendary Ancient Ash Titan, Elite Ancient Ash Titan, Legendary Fury, Legendary Ursix and Legendary Luminary."
And... well, that's it, really. Told you it was a short-n-sweet update.
Of course, some insist loot doesn't matter anyway, as a dedicated Anthem fan recently tried to prove via the power of maths.
In a post on the Anthem subreddit titled Power-Scaling: Why Loot Doesn't Matter Anymore (Math), user TermperHoof analysed the power scaling system added with the recent patch 1.0.3 and found "playing the game as intended will only result in diminishing returns, worthless inscriptions, useless components, and pointless weapons".
BioWare is currently fighting to keep the embattled Anthem alive. "Anthem is here to stay," community manager Jesse "Darokaz" Anderson wrote in an impassioned reddit post earlier this week. "Do we have a lot of work to do to fix parts of the game? Yes, and the team is committed to making improvements and releasing new content."
BioWare's open-world sci-fi shooter is available now on PC, PlayStation 4, and Xbox One.