Beautiful underwater adventure Abzû is heading to Switch this month
It's a fish shoal.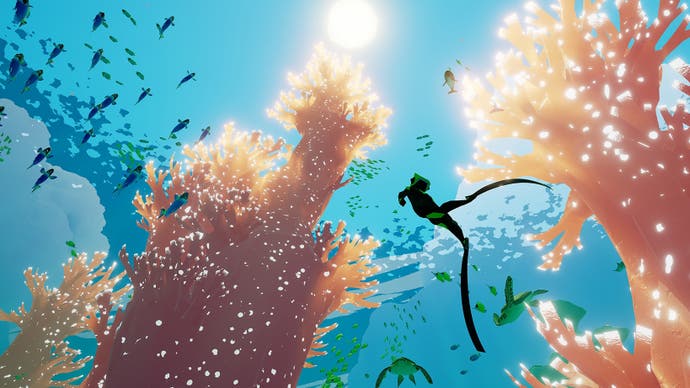 Developer Giant Squid Studios has announced that its sumptuous underwater adventure Abzû will be splashing enthusiastically onto Switch on November 29th.
Abzû has, of course, been around for a fair old while now, having initially released for PC, Xbox One, and PS4 in 2016. It's lost none of its ample charms in the intervening years, however, and is still an absolute pleasure to explore.
Abzû, if you're unfamiliar, is a "meditative" third-person narrative adventure that goes big on the ambience and environmental storytelling. Its closest comparison is undoubtedly developer thatgamecompany's 2012 masterpiece Journey, which isn't entirely surprising given that Abzû's lead designer, Matt Nava, was also art director on that game.
And what Journey did for deserts - with its gorgeous, richly atmospheric, albeit heavily stylised art - Abzû does for the world beneath the waves. Every scene is a visual wonder, strikingly designed and teeming with sea life, and it's just a delight to behold - whether you're actually playing or simply observing via the game's Meditation mode.
It is, admittedly, a fairly superficial experience, and while undoubtedly beautiful, never quite manages to reach the emotionally resonant highs of its forebear - even with composer Austin Wintory's breathtaking score working overtime.
"For all its obvious skill and craft the overall experience felt a little muffled, its dramatic conclusion rushed and its attempt to pull the heartstrings a little too calculated," said Eurogamer contributor Martin Gaston when he reviewed Abzû back in 2016, "Yet Abzû is still an easy game to recommend, mainly because of the obvious skill at play here in crafting this unique and striking world. Even if you can't get comfortable in the sea, there's still some treasure to be found underwater."
Abzû will be available to download via the Switch eShop on November 29th, and will cost £14.99. There's also 10% off for those that pre-purchase ahead of launch day.