Battlefield 3 UK launch price roundup
Refreshed for launch day.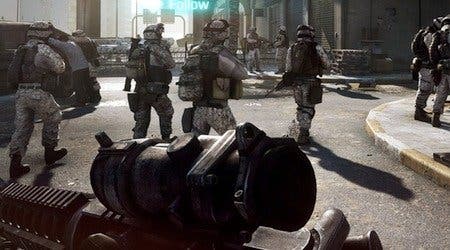 Where is the cheapest place to buy Battlefield 3 this week?
At the moment, Asda direct (online), where the Standard Edition of the game on console costs £27.97.
Consider trade-ins, however, and HMV wins. There, Battlefield 3 costs £2.99 when you take back Forza Motorsport 4 or Batman: Arkham City.
Game offers Battlefield 3 for £4.99 if you trade Batman: Arkham City, Gears of War 3, Forza Motorsport 4 or PES 2012.
If you're planning on picking up both Battlefield 3 and Modern Warfare 3, Tesco is offering the former for £33 if you put down a fiver for COD.
It's worth looking for the Limited Edition of Battlefield 3 where possible. This sells for around the same price as a Standard Edition and comes with the Back to Karkand add-on, which includes four re-mastered Battlefield 2 maps.
We've only included Standard Edition prices for shops not offering the Limited Edition, or for those outlets with both and where the price differs.
Look, too, for the Physical Warfare Pack add-on. On the UK high street, this is exclusive to Game and Gamestation. But online, Gameplay and Origin also offer it. The Physical Warfare Pack adds new guns and ammo.
Battlefield 3 will enjoy midnight openings up and down the country. Game and Gamestation will be the official UK launch partners, and open a combined total of over 500 shops on the night.
The first 100 people to queue at Game HQ on Oxford Street get a limited edition Battlefield 3 dog tag. A gameplay challenge on the night will have two people walk away with a new pair of Steel Series headphones, too.
There is also talk of Game and EA driving a tank down Oxford Street. This must be the stock arriving "in a style inspired by Battlefield 3" that the press release mentioned. The Gadget Show's Jason Bradbury will host.
HMV will open 50 stores at midnight on Thursday to sell the game.
Note that this list will be updated throughout the week. Please let us know of any deals that you spot that aren't here. Supermarkets typically reveal their pricing in-store on launch day, unless they've been advertised elsewhere. We're all ears.
Online shops
PC Battlefield 3 Limited Edition
PC Battlefield 3 Standard Edition
PS3/360 Battlefield 3 Limited Edition
PS3/360 Battlefield 3 Standard Edition
Bricks and mortar shops
Sainsbury's - £34.00 (or £24.99 when purchased with 2100 Live points or £25 PSN card)
Asda - £34.47 (PS3/360) Standard Edition
Morrisons - £34.99 (PS3/360) Standard Edition
HMV - £37.98 (PS3/360) Standard Edition / £39.99 (PS3/360) Limited Edition / £2.99 if you trade Forza 4 or Batman: Arkham City
Game / Gamestation - Price TBC or £4.99 if you trade Batman: AC, Forza 4, Gears 3 or PES 2012
Tesco - £38.71 (PS3/360) Standard Edition (or £33 if you pre-order Modern Warfare 3 for £5)