EA details first Battlefield 3 expansion
Back to Karkand collects classic maps.
Battlefield 3 developer DICE has detailed the game's day one Back to Karkand expansion.
The pack includes four classic Battlefield 2 maps: Strike at Karkand, Wake Island, Gulf of Oman and the Sharqi Peninsula, all re-mastered using the new Frostbite 2 engine. On top of that, you'll also get classic Battlefield 2 weapons and vehicles, unique rewards and new achievements.
To get hold of the free expansion, you'll need to pre-order the Limited Edition version of the game through any retailer, including the EA Store.
"These are evidently some of the very best maps we have ever built. We have unquestionable data and feedback from the community saying so," explained lead designer Niklas Fegraeus in an interview on the Battlefield blog.
Fegraeus also shed some light on how the revamped maps will play out now that they've had the Frostbite 2 treatment.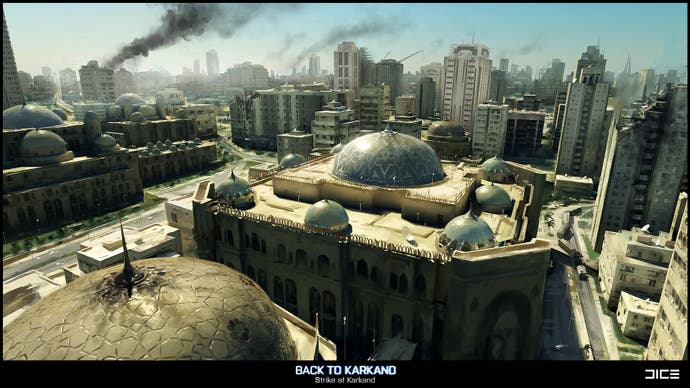 "From a gameplay perspective, destruction is the biggest addition compared to the original map in Battlefield 2 back in 2005," he said, referring to Strike at Karkand.
"I remember this particular building by the square in the original where players could defend very effectively. Now, with the destructive power of Frostbite 2, someone can just RPG that building and expose the defenders within.
"At the same time, we need to be careful not to add destruction that breaks the tried and tested game flow of the map."
For more on Battlefield 3, due out on PC, PlayStation 3 and Xbox 360 towards the end of the year, have a read of our recent hands-on preview.