Avalanche scotches Just Cause 3 rumour
"We're not releasing any game in 2012."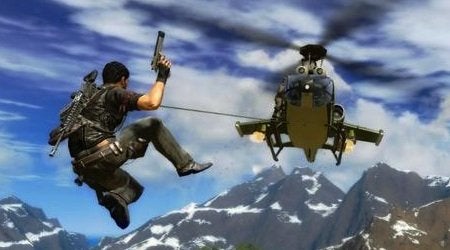 Not Just Cause 3 nor any Avalanche Studios game will be released next year, the developer has told Eurogamer.
"It's just a rumour and we're not releasing any game in 2012," Just Cause creator Christofer Sundberg informed us.
Xbox World Magazine began the rumour of a 2012 release for Just Cause 3, and credited "spies" as the source of the news.
Avalanche hasn't confirmed Just Cause 3 as a project. Eurogamer was told by Avalanche earlier this year that there are two "huge" titles in development at the Swedish studio. Both are scheduled for 2013.
That Avalanche would embark on a third Just Cause game should come as no surprise. The second instalment was widely acclaimed, and recieved 8/10 in Eurogamer's Just Cause 2 review.
But Avalanche isn't a one-trick pony, and has since released tip-top twin-stick shooter Renegade Ops, plus begun work on a next-gen project in New York.