All signs point to Just Cause 3 in 2015
UPDATE: Square Enix calls domain registration "routine IP management activity."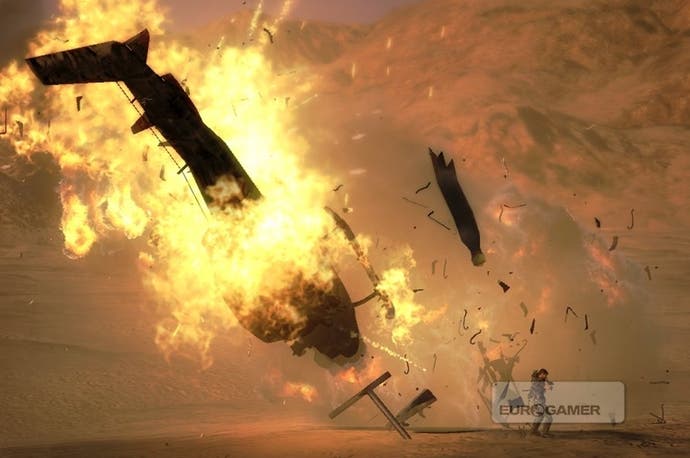 UPDATE: 5.17pm: Just Cause publisher Square Enix has issued us the following statement regarding the Just Cause 3 domain registration:
"Registering domains for our big franchises is just routine IP management activity."
So you might want to cool your jets in anticipation of the sequel... even though it still sounds very likely to be revealed in the near future.
ORIGINAL STORY: 8.26am: More evidence that Just Cause 3 is in development has emerged.
Internet sleuth Superannuation spotted that publisher Square Enix registered a Just Cause 3 domain this week, suggesting the game may be announced soon. Perhaps at E3 in June?
The series' developer Avalanche Studios is reportedly making Just Cause 3. Indeed it is something of an open secret. Studio boss Christofer Sundberg has hinted as much to Eurogamer in the past, and his LinkedIn profile includes a listing for an "unnanounced sandbox action game" for Square Enix, in development since August 2011.
"New installment in a very well-known game series," the description reads. "The game is being developed at Avalanche Studios New York studio and is scheduled for completion in June 2015 for next generation console platforms."
Back in April 2012 Sundberg told Eurogamer that Just Cause was "perfect" for Xbox One and PlayStation 4.
"There is a very strong emotional attachment to the franchise as it was created by me and my design team here so we would obviously like to see a very bright future for Just Cause," he said.
"In this day and age when everyone is struggling to make money, my opinion is that the JC IP is perfect for everything that next-gen has to offer."
Avalanche is currently working on a Mad Max game for publisher Warner Bros that's due out this year for PC, PlayStation 4 and Xbox One.