Assassin's Creed Origins is free to play this weekend on PC
And you can pre-load it now.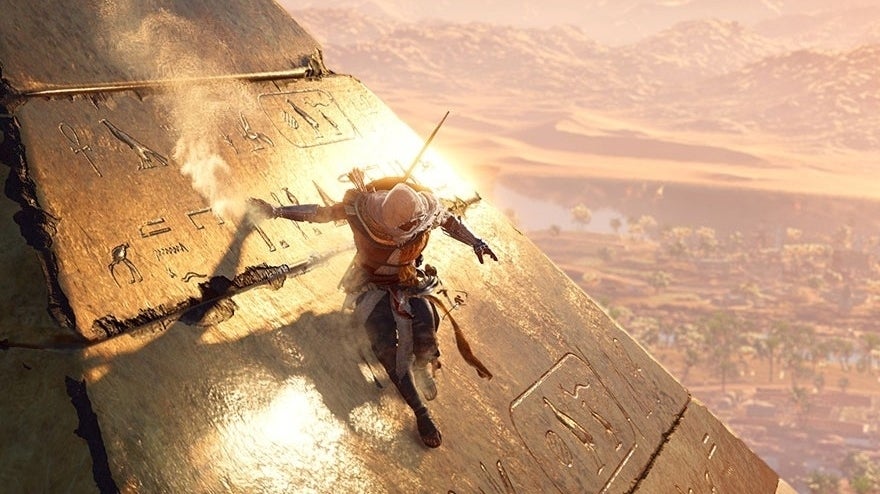 Ubisoft is offering up a brisk helping of Ancient Egyptian adventure for PC players this weekend, courtesy of its three-day-long Assassin's Creed Origins free play event starting Friday, 19th June.
Origins, if you've not yet had the pleasure, casts players as Bayek - one of the first Assassins in the series' sweeping, generations-spanning narrative - setting them off on an epic, and rather sandy, tale of vengeance across a sumptuous open-world recreation of Ancient Egypt.
It's a good 'un, of course, in large part thanks to that dazzling map, but it also shines thanks to its long-overdue finessing of the Assassin's Creed core, which impacted everything from combat to parkour and helped make the increasingly stale series feel relevant again.
Inevitably, Origins suffers a little from Ubisoft's all-too-familiar open-world homogenisation, but Eurogamer's Christian Donlan still found himself dazzled by its "mad ambition and grandiosity" in his Recommended review. "As dawn rose," he wrote of his time with the game in 2017, "I wondered whether this would ever end, and I realised that I didn't really want it to."
Those wishing to spent the weekend relishing in Assassin's Creed Origins' breathtaking sights can do so from 2pm on Friday, 19th June, in the UK, and the event concludes at 9pm on Sunday, 21st June. The free weekend is only available on PC via Uplay, but those wishing to take part can get a head start by pre-loading the game now.