Arms' new character is revealed, and she looks outrageous
And you can play for free this coming weekend.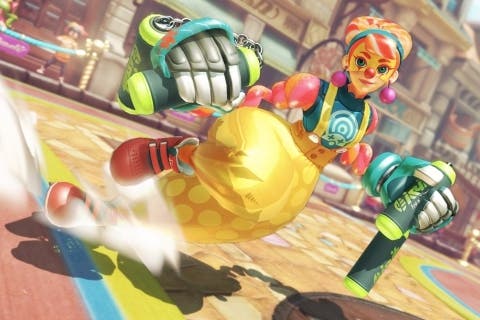 After a week or more of teases, Nintendo's finally revealed Arms' new character - and she's a pantaloon-wearing, nunchuck-touting French clown who can expand her trousers in order to block incoming punches, and has the ability to block mid-air.
The new character, called Lola Pop, brings with her three new Arms and an all-new stage, and she'll be introduced in v3 of Arms at an undisclosed date in the very near future. She'll be given a full run-out during a livestream on Nintendo of Europe's YouTube channel at 9am BST tomorrow.
Arms is also getting another Global Testpunch this coming weekend, with a free demo available to download on the eShop that will be live from 3pm BST this coming Friday to Sunday at 8pm BST.
Arms came out in June, and while it's enjoyed success in Japan it's struggled to find a foothold elsewhere. Hopefully this will be the shot in the Arms it needs (sorry) - I think it's a pretty decent video game.