Nintendo's Arms director confirms "no plans" for more content updates
Hands down.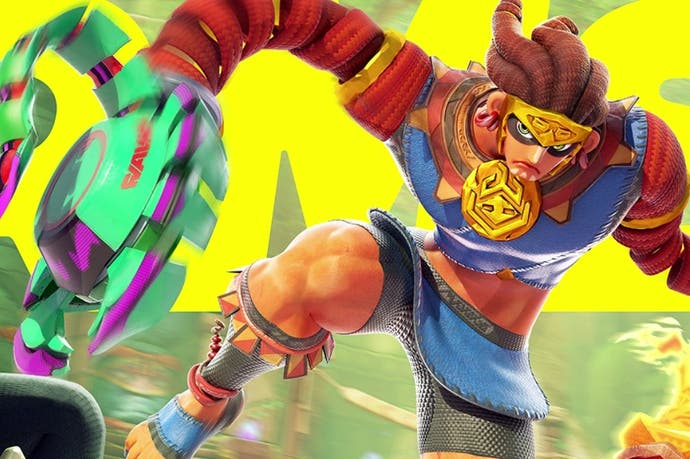 Arms has concluded its generous schedule of free content updates, Nintendo has confirmed to Eurogamer.
The Switch-exclusive fighter has had a healthy helping of extra characters, stages, modes and fighting Arms since its release last summer - but the future of this content schedule has been up in the air since a mysterious statement posted to Nintendo's Japanese help website back in December.
When translated, this statement suggested no more free content was on the way. We asked Nintendo for more information, and now, Nintendo's Kosuke Yabuki - Arms' director and the godfather of the project - has confirmed to Eurogamer this is the case.
"After its launch on 16th June, we released several significant free content updates for ARMS, including five new characters, 12 new ARMS, five new stages, collectible badges, and new modes like Party Crash," Yabuki told us.
"More Party Crash events are on the way, and we'll continue to make balance adjustments and other small changes to improve the gaming experience, but we currently have no plans for bigger updates."
It's a shame to see Arms support end - but the game has grown considerably since launch and now feels a very full package.
"There are also a few things I'd like to highlight personally," Yabuki continued.
"With the director of the ARMS Laboratory, Dr. Coyle, joining the ARMS Grand Prix, all the ARMS fighters have finally got together!
"Because of our commitment to ongoing updates since launch, we feel we've reached a point where the strengths and weaknesses of fighters are generally balanced, making for some really exciting battles.
"We will definitely continue to make balance adjustments, as well as run more Party Crash events. Everyone on the development team hopes that players over the world can enjoy ARMS for many years!"