Arms 4.0 releases tomorrow, and will introduce a new character
Sweet poison.
Arms - Nintendo's best game of 2017 and I won't hear otherwise, thank you very much - is getting another significant update tomorrow, with version 4.0 introducing an all-new character, a new stage, a new element and a new mode. All gratis, of course.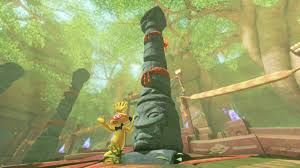 We don't know too much about the new character, although we do know the new element is poison and that they have a companion of sorts, and that their stage looks to be Aztec-themed. Which is a fair amount to go on - and obviously we'll have the full picture within 24 hours.
It's the third significant update to Arms, and after the introduction of Max Brass and Lola Pop it'll be the third new character to be introduced to the game.
Arms came out this June, but has been eclipsed somewhat by the likes of Splatoon 2, Zelda and Mario. Don't let them distract you from its brilliance - it really is quite good.
I got the chance earlier this year to sit down with its producer, Kosuke Yabuki, to talk about Arms' genesis and where it's headed next.