Animal Crossing: Pocket Camp adds gardening, clothes crafting next week
And there's yet another new event.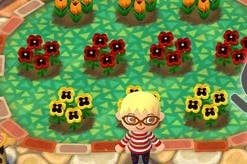 Animal Crossing: Pocket Camp feels determined to keep a hold of its players, with a big update due next week and another in-game event starting today.
Next week's update brings a garden patch to your campsite where you can add wild flowers. You'll also be able to craft specific clothing - a feature currently disabled in the game's interface.
A post on the official Animal Crossing Twitter teased a role for the series' introductory cat character Rover, as well.
Log on to Pocket Camp today, meanwhile, and you'll see there's yet another in-game event on the go. This one asks you to befriend other players, and happily its rewards count friends you have added already. For having more than 30 people on my friends list I got a sizable bundle of Leaf Tickets.
After providing a rather threadbare offering at launch, Pocket Camp is doing a decent job of adding new things for players to keep coming back for. The game's current Christmas item event is still ongoing until the big day itself, for example.