Animal Crossing: New Horizons trailer shows off more idyllic island life
"A laid back, relaxing time in a haven of nature awaits."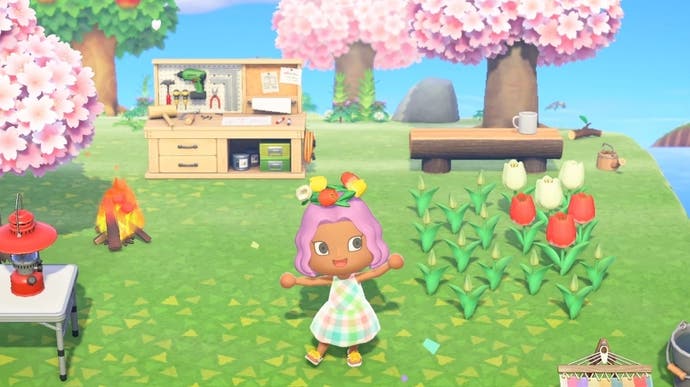 Animal Crossing: New Horizons has blessed us with another glimpse of idyllic island life, and a slightly closer look at some of the features we'll get to experience when it launches on 20th March next year.
The 'Welcome to Island Life' trailer (introduced by none other than Tom Nook himself) invites us to "a laid back, relaxing time in a haven of nature", and shows off a bit more of the gameplay we saw at E3.
For starters, there's the new crafting feature that allows players to make all the tools they could ever need from the materials found around the island. Similar to Minecraft, creating better tools will let you harvest better quality materials, so you can make even better quality stuff to help you get on with island life.
If you're not one for crafting, however, you can buy any tools you might need from Timmy at the island's Resident Services building - which is also where the workshop for crafting is located, though it seems like you're able to get your own work station at some point in the game.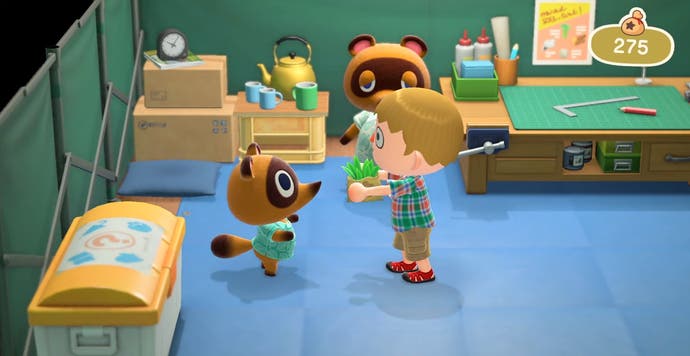 As well as Animal Crossing's traditional currency of Bells, New Horizons is introducing Nook Miles. These can be earned from doing a variety of tasks around the island, including: fishing, bug catching, pulling weeds, selling items, collecting recipes and just using your Nook Phone. These are just about all of the ways we've seen so far that Miles can be earned, but undoubtedly most activities in the game will go towards getting them.
Once you've earned enough Nook Miles, they can be exchanged for special recipes and items, though we don't know yet exactly what these rewards will be.
It seems even eating fruit may help you complete tasks. "A nutritious snack will help you shovel up a tree in no-time," says the voice over for the welcome video, before showing the character scoff an apple then uproot an entire tree (with a shovel likely made from sticks no less). There's a little counter in the top left of the screen that suggests you'll need to have eaten your apple steroids before performing such a feat - can't go digging up the scenery on an empty stomach, I suppose.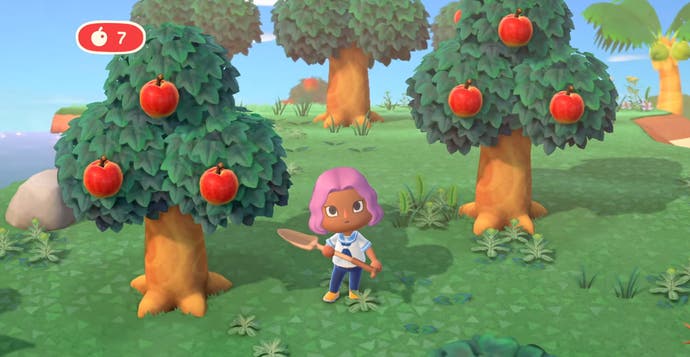 Further to this, there was a lot of gameplay we've already seen, from changing seasons and weather, to the four-player local multiplayer and eight-player online multiplayer. Pole vaulting, new customisation options, the ability to place furniture wherever you want - Animal Crossing: New Horizons looks well worth the wait and I'm glad Nintendo is taking their time to get it all right.