Airborne Kingdom is a floating city builder that looks like the intro to Game of Thrones
From a team of ex-Visceral Games devs.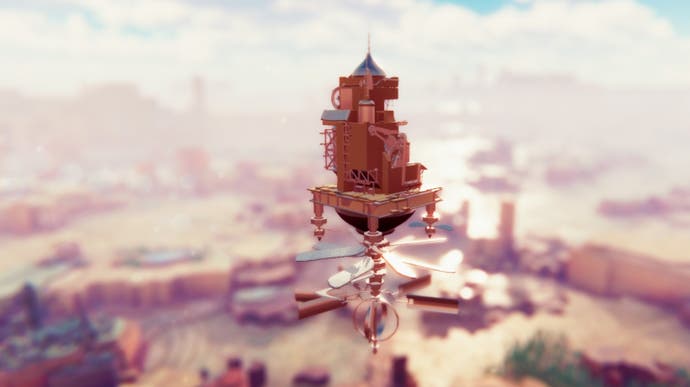 Developer The Wandering Band has unveiled Airborne Kingdom, a rather glorious looking city builder of sorts that, in something of a break from the norm, puts you in charge of an ever-expanding floating metropolis.
To a point, it sounds like any other city builder; you start small (in this case, not much more than a single bobbing propeller), then build houses and amenities in a bid to attract civilians and use the available resources to expand outward and upward - until you're an urban sprawl to be reckoned with. Just, you know, a flying one.
"Will you create a balloon flotilla connected by ropes and based on faith, or a winged metropolis focused on entertainment," asks The Wandering Band, "or will steam-powered fans fly your kingdom as you search for answers in the stars?"
Airborne Kingdom's most significant departure from traditional city management games is that, taking advantage of your dwelling's manoeuvrability, you're able to freely roam the world. This, it transpires, is a sprawling, randomly generated desert with its own lore and exploitable technologies, all rendered in a beautifully intricate art style that brings to mind the striking opening credits of Game of Thrones.
Other influences (according to a Polygon interview with The Wandering Band) include Frostpunk, Anno, Sunless Skies, FTL, and 80 Days. And if Airborne Kingdom comes even close to capturing the magic of any of those games, we'll definitely be in for a treat.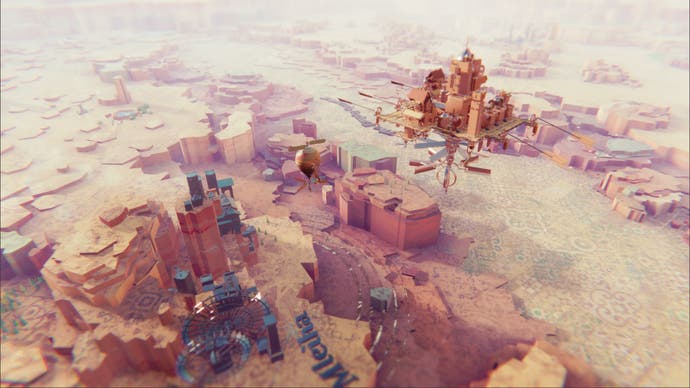 As you explore the desert world, you'll encounter tribes - and members can be tempted to join the ranks of your flying homestead if you're able to satisfy their wants and desires. The Wandering Band says that it's also possible to barter with tribes, combining their knowledge to discover new technology, or to establish production chains of extravagant resources.
It's a wonderfully appealing idea, and one ably served by the sumptuous presentation. The Wandering Band has a strong development pedigree too, and its members - Chee Fong, Fred Gareau, and Ben Wander - all previously worked at the sadly now defunct Visceral Games. Ben Wander also created 2018's celebrated Switch and PC noir murder mystery A Case of Distrust.
Airborne Kingdom is currently anticipated to release for PC and Mac in 2020 (there's a Steam page already), and a console version is being considered too.