Beautiful floating city builder Airborne Kingdom gets December release date on PC
(The one that looks like Game of Thrones' intro map).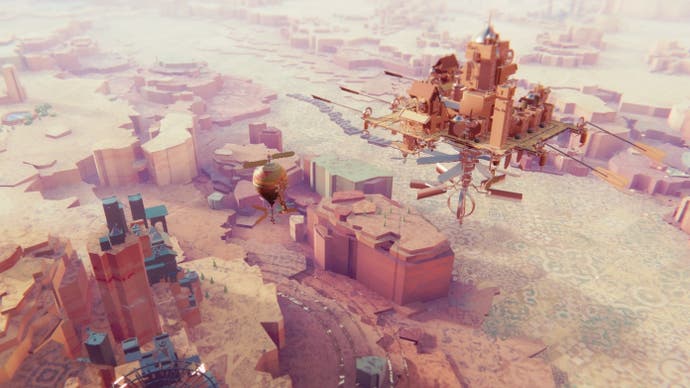 Airborne Kingdom, the beautiful exploratory city builder that looks like it spilled out onto Game of Thrones' intro sequence map, will be drifting onto the Epic Store on 17th December.
Developed by The Wandering Band, the studio behind noir murder mystery A Case of Distrust, Airborne Kingdom is, to a certain degree at least, much like any other city builder.
You start small (in this case, as nothing but a hovering platform attached to a propeller) and steadily expand outward and upward, using resources to build houses and amenities that attract new civilians, granting further options to expand even outier and upwarder as a result. Obviously, the not insignificant twist here is that your city happens to be a flying one.
The idea is that, by maintaining lift, you can take advantage of your burgeoning city's manoeuvrability to explore the visually striking, randomly generated world in order to "restore harmony... and build bridges between peoples separated long ago".
As you move about, you'll encounter settlements with their own tribes; here, you can barter, discover knowledge of lost technology, establish trade routes, build monuments, or even convince members to come aboard your extravagant flying city if you can satisfy their needs.
It's a wonderfully appealing concept - the fact it looks utterly gorgeous certainly isn't a hindrance either - and we'll know if it's got the execution to match when it launches for Mac and PC via the Epic Games Store (where it'll cost £19.99) on 17th December.