A long look at impressive planet playgrounds in Star Citizen Alpha 3.0
Come on, come on, hurry up already.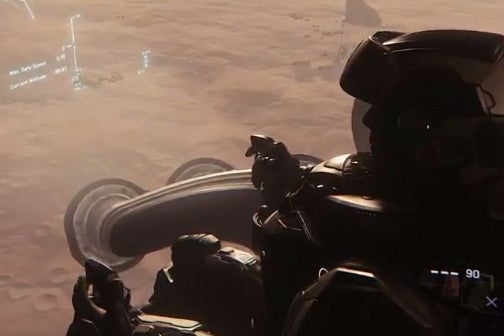 Star Citizen gameplay footage from Gamescom gives us our longest look yet at the long-awaited, and delayed, planetary landings update 3.0.
In the footage, pulled from the official Star Citizen stream, we see various spacecraft fly down from space into the atmosphere of a planet and then down onto the surface. Once there, players can zip around on a kind of hoverbike or pile into a multi-wheeled, off-road buggy transport, assuming your ship has the vehicles ready to roll out or you can get hold of one from a station nearby.
This being Star Citizen, the real promise of planetary landings - aside from looking visually very impressive - comes from encountering other people along the way, which we see in the footage.
Star Citizen goes big at Gamescom and this year is no exception. We have a Star Citizen appointment with Chris Roberts we will report on as soon as we can.
Tomorrow evening there will be a key live-streamed Star Citizen presentation, showcasing what has been worked on this year as well as some things we apparently have never seen. The show starts 8pm UK time (BST).
Alpha update 3.0, originally promised last year, has been a long time coming - as everything seems to be with Star Citizen. The much-revised new arrival date for 3.0 is two weeks from now: Friday, 8th September.
When Star Citizen will be released as a full game is the million-dollar question - the $156.6m question, if you tot up the crowdfunding so far. Development has stretched on and on. There's hope of the game turning beta by the end of the year and then launching before the end of 2018, but as the project grows and grows, the likelihood consequently shrinks.