Star Citizen's big alpha 3.0 release slips again
"There's certainly no malice behind it..." dev explains.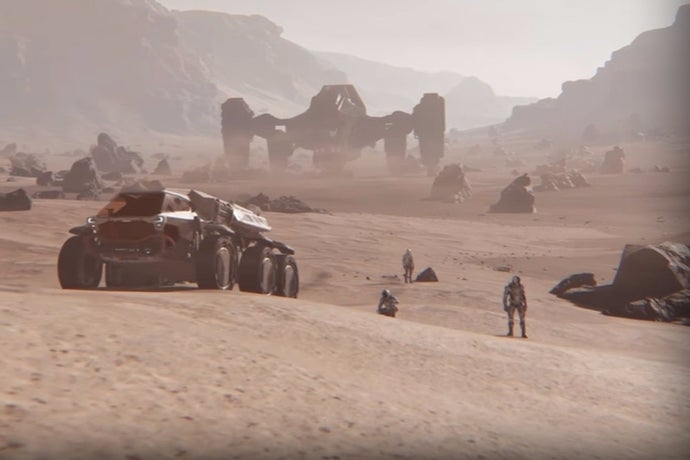 The release of Star Citizen alpha 3.0 - the big, exciting, 'fly down onto a planet and explore it' release - has been pushed back again. What was once expected at the end of 2016 - then June 2017, then August 2017 - is now expected at the beginning of September.
"This week, we entered the optimisation, polish and bug fixing phase for the 3.0 feature set," the game's Roberts Space Industries website said. "As there have been so many features and content implemented, we've encountered some stability issues that we want to address before going to a wider test audience."
Work on the game's new patcher system also apparently slowed the release down.
There was backlash from the community about the delay, prompting a longer explanation by Star Citizen director of player relations, Will Leverett.
"When venturing off into uncharted territory, one does not always see or know all of the challenges ahead of them," he wrote (I've snipped some passages for brevity). "Working on 3.0 has certainly introduced variables and challenges that we could never have anticipated, and these just do not always cater to a tidy date on a calendar.
"As gamers, we are conditioned to consider all dates as static points in time that we can wrap our heads around and plan for in advance. The nature of this project does not neatly fit into that mould...
"The scope of 3.0 is not insignificant ... it introduces a level of tech and infrastructure that's an order of magnitude larger and more complex than all of our previous versions combined. Integrating all of this has revealed to be MUCH more of a bug fixing project than anticipated, which obviously reshapes those estimates and changes those dates.
"There's certainly no malice behind it and anyone who makes that claim is providing an uninformed opinion. Ask any project manager or developer who worked on sophisticated software or has been involved on a complex project with lots of dependencies and moving parts, they'll gladly share how challenging a task of estimates can be."
Those date estimates are available for everyone to see on the public Production Schedule (scroll down), where the target release date for 3.0 is now between 4th and 8th of September.
Leverett went on to add it wasn't in Cloud Imperium's DNA to hold content back. "We simply don't do that," he wrote. "When it's ready for primetime, it's out the door for you to enjoy.
"Today 3.0 is about delivering an entirely explorable solar system with the backend services to make it dynamic. It's about giving us the city- and planet-building tools to create for you the rest of the universe in an intelligent, scalable, efficient, and compelling manner. It's about the first step in giving you the tools to create player outposts and communities. It's about the streaming tech to allow you to take off from one moon, fly across the system, and land on an entirely different moon, then driving a freaking sweet buggy out of the back of your ship to race around the entire planet... all without a loading screen.
"It's about giving you the ability to buy what's on the web inside kiosks. It's about usable turret gameplay, and Items 2.0 so you can customise your own ship with new components. It's about picking objects and cargo so you can haul commodities across space as a trader and merchant. It's about gutting a single-player engine to support thousands of players. It's about infrastructure that we needed to develop because there are no off-the-shelf solutions for building an immersive experience like no other.
"We've learned that we can deliver something better than the original 3.0, something bigger, something pretty groundbreaking, something magnificent. That doesn't always keep to a schedule, but we think it's OK to take the time to do it right."  
There is no formal release date for Star Citizen but it is expected to enter beta by the end of this year. It may take another year for that beta to be deemed complete enough for the game to be considered final and launch. Alongside Star Citizen there is a single-player, standalone, cinematic experience called Squadron 42, which has all sorts of Hollywood acting talent involved - Gary Oldman, Gillian Anderson and Andy Serkis to name a few. Squadron 42 slipped from 2016 into 2017, but has no more specific date than that. Whether it will make it out this year remains to be seen.
To date, Star Citizen has raised $156m through crowdfunding - and counting.