2K makes changes to NBA 2K microtransactions to comply with Belgium and Dutch gambling laws
"We disagree with this position," says 2K.
2K has removed some elements of microtransactions from its basketball franchise, NBA 2K, in a bid to comply with gambling laws in Belgium and the Netherlands.
According to Rock, Paper, Shotgun, two undated statements on the basketball arcade game's website detail how the developer has had to strip the option to buy MyTeam packs - the NBA 2K equivalent of loot crates - from the title in Belgium, whereas in the Netherlands, players will not be able to access Auction House, a feature that permits you to buy and sell your players.
In Belgium, MyTeam packs can remain on the premise that players may only use their in-game currency to purchase them, but given the law in the Netherlands prohibits "games which include 'loot box' style mechanics if the items they contain are transferable", Auction House has been removed in its entirety while 2K works on a solution.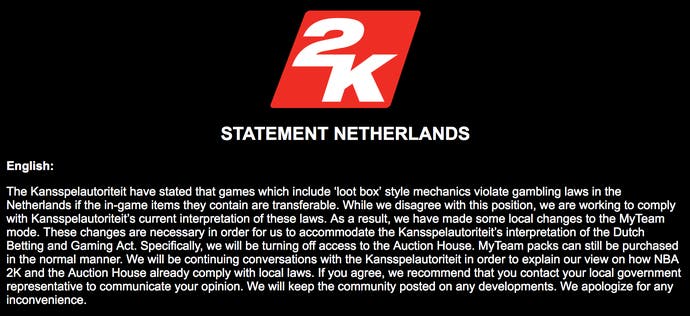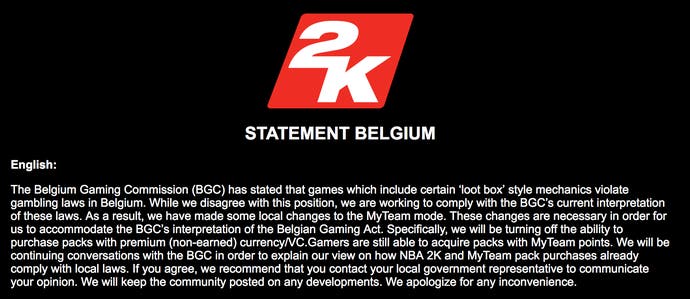 As you might expect, 2K "disagree[s] with this position" and asks players who agree with them to "contact [their] local government representative to communicate [their] opinion".
NBA 2K19 will release on Nintendo Switch, PC, PlayStation 4, and Xbox One on 11th September, 2018, although fans willing to shell out for the Anniversary Edition will be able to access the game a few days early on 7th September.
As yet, it's unclear how these statements will impact upon 2K19, which shortly goes on sale, or how it will affect the many versions of the annually-published game already in use.
Of course, 2K isn't the only company grappling with the impact of changes to gambling laws and fan dissatisfaction. In just the last month alone, Turn 10 announced that it will be removing Prize Crates - Forza Motorsport 7's version of loot boxes - from the game this coming winter, and Warner Bros. finally removed the market and microtransactions from Middle-earth: Shadow of War.