YouTuber hooks up Microsoft Adaptive Controller to Nintendo Switch
Trigger happy.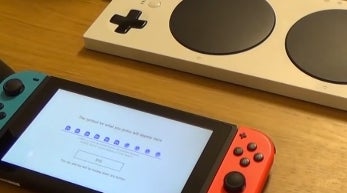 Microsoft's accessibility-friendly Adaptive Controller has been made to work with Nintendo Switch.
YouTuber MyMateVince has demoed the Xbox gadget working with Nintendo's own Mario Kart, with only an off-the-shelf adapter and around 10 minutes of setup (thanks, The Verge).
The Adaptive Controller acts as a hub for whatever switches or buttons you wish to plug into it - and it's been designed to be as flexible as possible in this regard. All of its control ports can be remapped via Xbox One or Windows 10.
The Switch itself is actually pretty friendly with Adaptive Controller's setup, because you can calibrate whatever you're using for the game's analogue controls via the console's own internal settings.
You will, however, still need that console adapter - which sorts out the signals from your Switch into something the Adaptive Controller can connect with. Here's the tutorial on getting it set up:
Maybe, one day, this will all just work? If Microsoft and Nintendo can work together to get Mario skins in Minecraft and enable cross-platform play with Xbox, official support for the Adaptive Controller shouldn't be impossible.