Save 32% on this Xbox Wireless Controller and Far Cry 6 Limited Edition bundle
An awesome £37 saving means you're almost getting the game for free.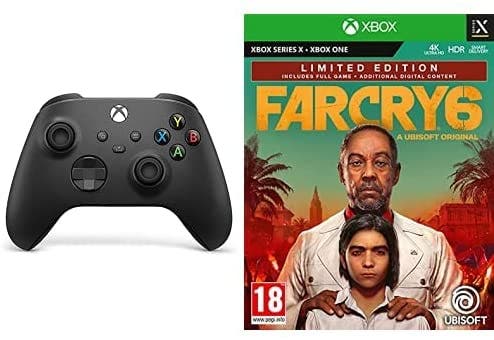 Black Friday 2021 may be starting to wrap up for the year, but you can still land some excellent last minute deals, including this bundle at Amazon.
Right now, you can save over £35 on this combo when you get the Xbox Wireless Controller and Far Cry 6 Limited Edition bundle. You can't even get a bargain this good if you bought each item separately at a discount in this year's Black Friday Sale. So in short, if you want both items then buying this bundle is the cheapest possible price you can get.
And you aren't going to go wrong with either item. The Xbox Wireless controller works on the Series X, Series S and Xbox One consoles and ideal if you need an extra controller for player 2. The Limited Edition of Far Cry 6 has already sold out on some platforms during this year's sales, it's been a hugely popular game. With the limited edition you get the entire game plus the Jungle Expedition Pack.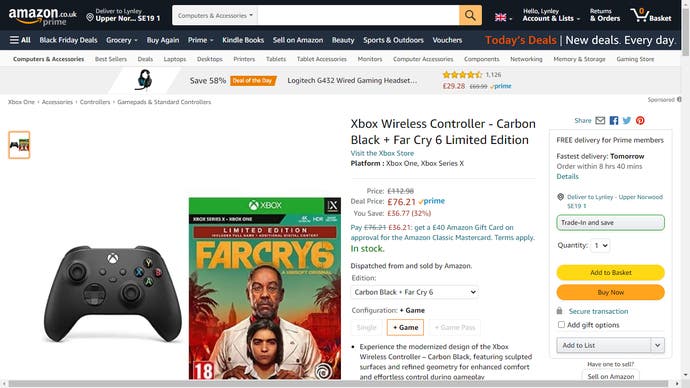 Far Cry 6 is the franchise's latest entry and has all the chaotic fun of previous titles. The dramatic storyline is set in a fictional Latin America, ruled by a brutal dictator with you as the guerrilla revolutionary. Here's what Ian Higton had to say about the game in his recent review:
'If you're looking for a sequel that would shake up the series and bring about a gameplay revolution, you're going to be disappointed, but if you enjoy that classic Far Cry collect-em-up grind and simply want a brand new sandbox to explore and explode, you're going to be far from bored with all that Yara has to offer.'
Not fussed on the game but you're after an Xbox controller? You can still snap up a smaller discount on the standalone Wireless Xbox controller for £49.99. If you're after the game on its own you'll also find Far Cry 6 Limited Edition with a saving of £20.
For more Xbox games and accessories, we've rounded up as many of the best bargains as possible with the Best Black Friday Xbox Series X/S Deals guide. There are also new deals on the horizon with the Cyber Monday sales starting tomorrow, so be sure to keep an eye out on the Digital Foundry and Jelly Deals Twitter accounts for all updates.