X360 vs. PS3 Face-Off: Round 10
Vegas 2, Army of Two, Lost, Blacksite, Conflict, Lost Planet, DW6.
Welcome to the latest in Eurogamer's on-going coverage of cross-format games development, our chance to go back and supplement existing reviews with additional console-specific coverage.
As is the norm, there's roundup commentary on the gameplay of each title, combined with technical analysis for both PS3 and Xbox 360 releases. Backing that up is the usual range of 720p and 1080p (where PS3 supports it) full precision, full-range 24-bit RGB dumps of every game, courtesy of the Digital Foundry HD capture unit. With Eurogamer you get the full, uncompressed picture of what the respective consoles are pumping out, with no recourse to murky, jerky streaming video.
Onto the games then. There's quite an intriguing line-up of the best and the very, very worst in cross-platform development in this round, with an unintended emphasis on co-op gameplay and Epic's Unreal Engine 3 technology.
Thanks to the Beyond 3D Forums' Quaz51 for additional technical analysis on Army of Two and Lost: The Video Game.
Tom Clancy's Rainbow Six Vegas 2
I'm somewhat late to the Rainbow Six party, getting my first taste with the last Vegas game I covered in the third face-off last year. I liked what I saw so much that I played through the entire single-player campaign in a few days. The control system felt refined and mature, the graphics were (and still are) excellent and the game took on an entirely new dimension when played online. The fact that it was an excellent PlayStation 3 conversion was the icing on the cake.
But Rainbow Six Vegas 2? In many ways, it's a solid progression. The ability to use the same character persistently throughout the online and offline modes is an obvious but highly successful addition to the formula, and the customisation options are excellent. Seamless integration of co-op into the single-player campaign is another decent addition (though two-player-only does rankle), but more than that, the make-up of the levels has clearly been designed with multiplayer gameplay in mind. Multiplayer is as good as ever it was, and, once again, Terrorist Hunt is a real high point.
But like Kristan, away from the multiplayer options, I found the solo campaign to be a real disappointment. He found it too easy, I found it dull and annoying. The original Vegas' juxtaposition of tactical shooting in a glamorous, glitzy environment was a risky idea, but - credit to Ubisoft here - it worked. In Vegas 2, the locations are much less interesting (welcome back office blocks and warehouses) and the continual process of snake-cam, door-busting shoot-outs becomes progressively monotonous.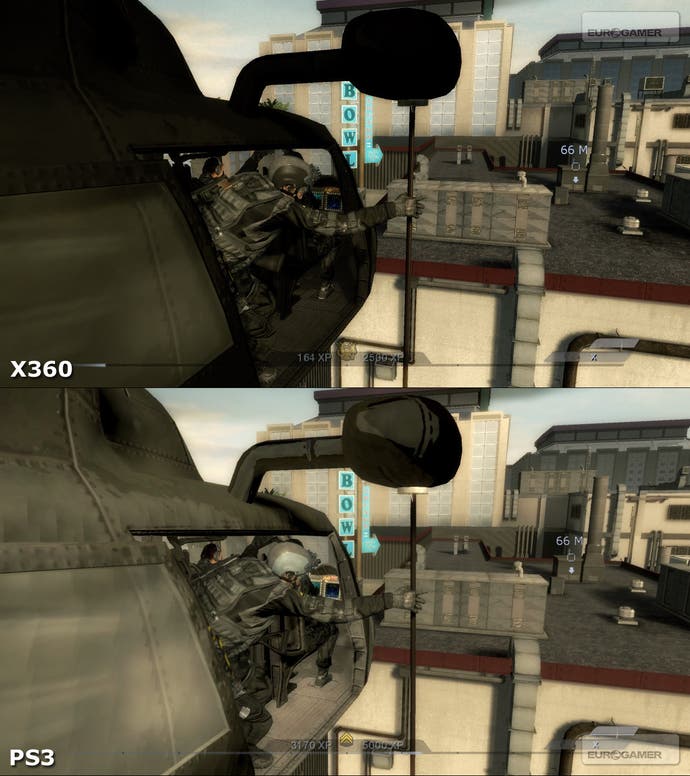 Not to mention frustrating. Even on default difficulty level, the enemies are crack shots - one false move and you're dead. Often you've no idea where incoming fire is directed from, so death is frequent and frustrating. Combine that with key 'set-pieces' that have terrorists spawning out of nowhere (usually on the protection missions) and I found myself forced to play on just to do this piece justice, as opposed to playing for fun as I did with the first Vegas. In most cases, sending in your squad ahead of you to attract enemy fire seems to be the best way forward as, bizarrely, the terrorists seem to have a much tougher time gunning them down. Hardly a fair or sporting way to progress, but at least it forces you to make full use of the team.
So very definitely a Jekyll and Hyde sort of a game for me, significantly better than the first Vegas in any multiplayer scenario but undeniably disappointing for those after a decent solo campaign, where it really seems as though the development team has run out of ideas.
In terms of the cross-format analysis, Ubisoft has had an excellent run of form with the Unreal Engine technology. With just the occasional difference in special effects and lighting, the original Vegas was essentially the same game on both Xbox 360 and PlayStation 3. Ubi's Phil Therien promised the same level of parity on the sequel in several press interviews, and by and large, the company has delivered. However, in the case of Vegas 2, that doesn't seem like such a big deal as the game feels sparser and less detailed than its predecessor. Somehow, the move away from the casino environments seems like much less of a workout for the Epic middleware.
There's good news for 1080p display owners too. After the unmitigated disaster of the 'full HD' support in the original Rainbow Six Vegas, which somehow managed to look about as impressive as a badly scaled 480p image, the developers simply haven't bothered this time around. Of course, the 360 version scales up nicely to any resolution as is the norm with the system hardware, but at least this time PS3 owners won't have to fiddle about with the XMB settings just to make the game run at its best.
Will you support the Digital Foundry team?
Digital Foundry specialises in technical analysis of gaming hardware and software, using state-of-the-art capture systems and bespoke software to show you how well games and hardware run, visualising precisely what they're capable of. In order to show you what 4K gaming actually looks like we needed to build our own platform to supply high quality 4K video for offline viewing. So we did.
Our videos are multi-gigabyte files and we've chosen a high quality provider to ensure fast downloads. However, that bandwidth isn't free and so we charge a small monthly subscription fee of £4.50. We think it's a small price to pay for unlimited access to top-tier quality encodes of our content. Thank you.
Support Digital Foundry