Worms Revolution Extreme coming to Vita Q3
Worms its way into your pocket, heart.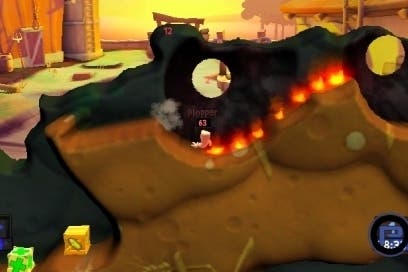 A renovated version of Worms Revolution will be heading to Vita in Q3 this year with Worms Revolution Extreme, developer Team 17 has announced.
This handheld variant of Worms will feature a 47 mission single-player campaign as well as 25 puzzle stages. Environments will include: sewers, farms, castles, beaches, funfairs, and Mars.
Worms Revolution Extreme will also support up to four-player online multiplayer with Deathmatch, Forts and Classic game modes.
This enhanced Vita version will enable touchscreen controls to select items and zoom the camera, while the rear touch pad can be used to aim weapons.
Worms Revolution Extreme will also support cross-platform play with the ability to save your game on Vita, then resume your file on PS3. There will also be a cross-platform gifting feature, Treasure Mode, in which you can earn keys by meeting certain requirements, then connect to a friend's game on PS3 and unlock the corresponding chest in their game.