Work-in-progress Cities: Skylines mod brings first-person multiplayer
And next, a FPS?
Cities: Skylines modder Fr0sZ is developing a first-person multiplayer mode for the popular construction sandbox.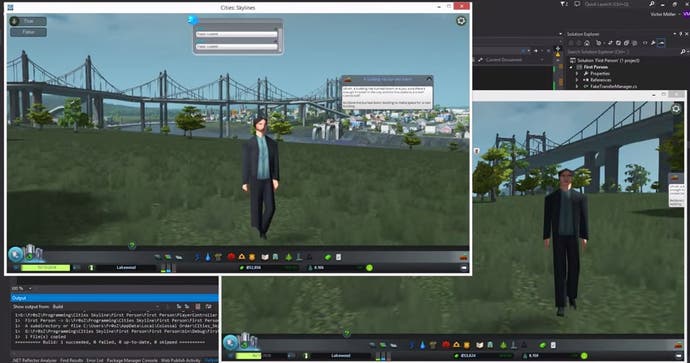 Work-in-progress footage shows that two-player support has been implemented, with players able to inhabit two of the game's miniature citizens in a shared game world.
But what next? The developer is unsure.
"A first look at my multiplayer mod," Fr0sZ wrote when posting the footage to YouTube (thanks, PC Gamer). "Now I just need to figure out what to do with it."
After asking the game's Reddit community for suggestions, fans replied to Fr0sZ with ideas for drivable cars, capture the flag or hide and seek modes and a full-blown FPS.
When Eurogamer reviewed Cities: Skylines, Dan Starkey wrote that the games was "a competent city-builder that lacks a vision of its own - though it leaves space for its community to fill in the gaps".
It looks like the community is already well on the way to doing that.
Earlier this month, a former Maxis employee who worked on SimCity and its expansion, Cities of Tomorrow, launched a Patreon to crowdfund the creation of Cities: Skylines buildings. He currently receives nearly $775 for each building designed.