What the delay has done for Rayman Legends
How Ubisoft Montpellier used the extra six months to build a better game.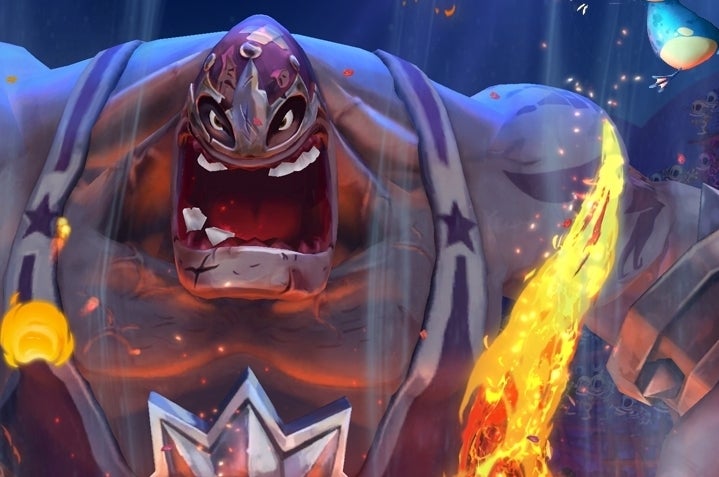 The sun has already set as we take our seats. It's been another baking hot day in Montpellier, home to Michel Ancel's Ubisoft studio, and there's a nervy tension amongst the crowd as the man on stage picks up a controller. "Guys," he says, staring at two people in front of me, "you're up first".
The pair is soon joined by a rival duo, taking their seats across from them. Handshakes are exchanged, sweaty palms are wiped on trouser legs, and then all eyes turn to the big screen in front. "I'll be Rayman," one entrant mutters. "You be Globox. Hang back in goal." This isn't the normal mode of Rayman Legends - this is the mini-game Kung Foot, a ridiculously distracting side-attraction that Ancel and co. developed on a whim.
It's a 2D football game for up to four players, with simple physics and an even simpler fighting mechanic - you can aim punches at opponents and leave them momentarily stunned, enough time for a quick lob in the direction of their goal. But because of its simplicity it immediately becomes tactical.
Do you keep both men up front? Leave one back to cover your goal line? Do you just be a dick and permanently harass their keeper? Ubisoft Montpellier apparently had implemented more complicated controls for dribbling and trick shots but removed them during play-testing - simple is better. And from the amount of people previewing the game whose screens were permanently locked on Kung Foot throughout the day, it was the right decision.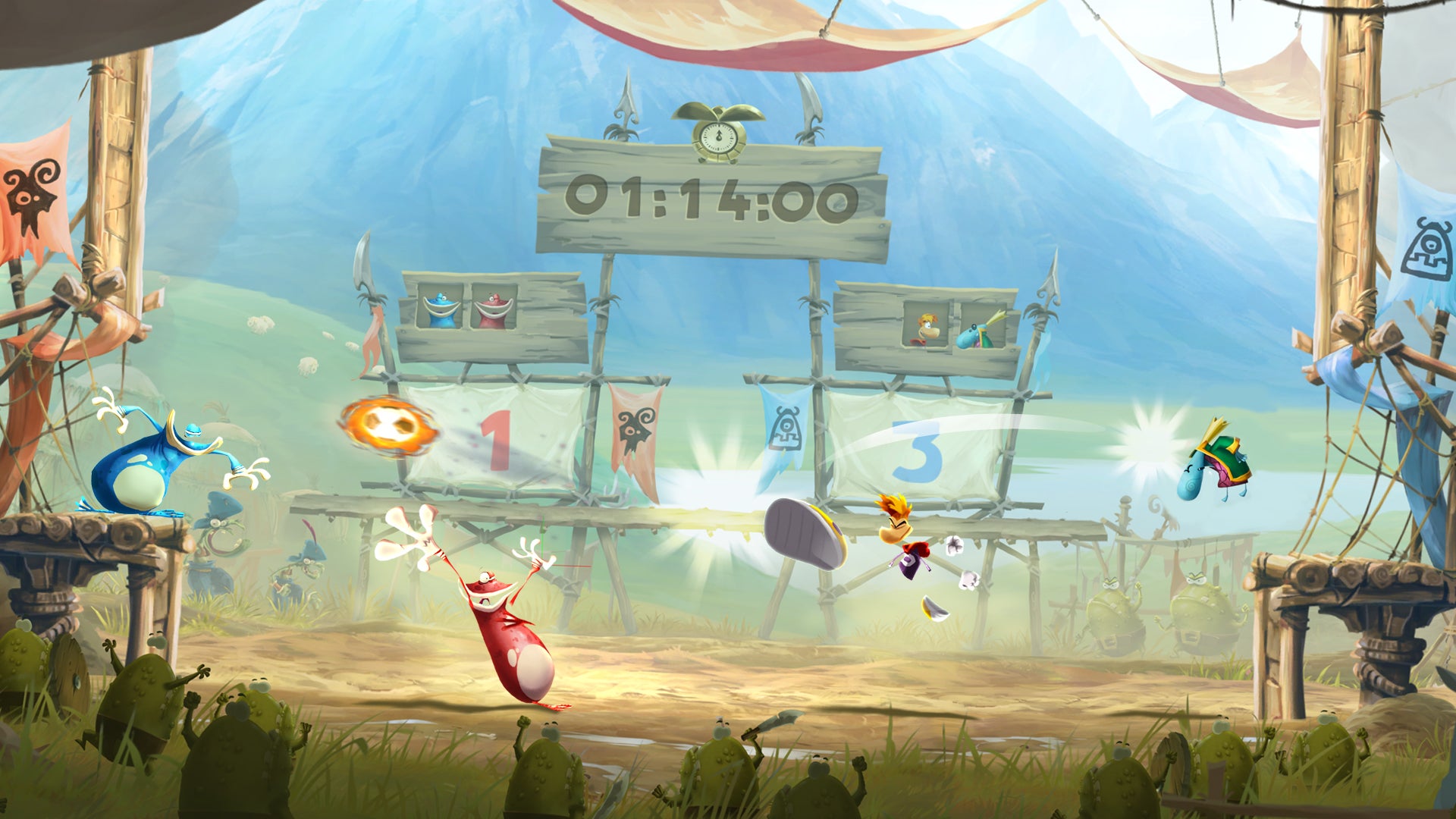 That extra layer of finishing touches is evident throughout the game. Legends already looked an accomplished release back in January, when it was destined for imminent launch on Wii U. But with six months bonus development time (and new PlayStation 3, Vita and Xbox 360 versions), Legends has been buffed to a shine. It was the knowledge that Montpellier would be given the extra months to polish the game that placated Ancel after he heard of the delay. Ancel explained to Eurogamer that he sees it now as a "logical decision", but game designer Emile Morel told me, smiling, that Ancel was initially "not too happy about it".
New features since January include the gigantic bosses at the end of each level - the only 3D-designed creations in Legends' evolved UbiArt engine. One example sees a fight against a massive, screen-filling luchador, who must be defeated with some deft platforming around the edges of a fiery molten lava pit. Montpellier has also been working on new "Invasion" levels for the main campaign, where maps you've already beaten become infested with new enemies. These remixed levels offer a significantly harder challenge and come with a time limit to boot. Rayman fans will also cherish a selection of "Back to Origins" levels from Legends' predecessor, rejigged and pimped out with the latest that the UbiArt engine has to offer.
The whole game is charming to look at and mess about in, but there are some stand-out beautiful moments. The Greek-themed Olympus Maximus levels take you from airborne olive groves amongst pink wispy clouds to the dank depths of Hades, while the Fiesta de la Muertos world recaptures the Mexican Day of the Dead spirit, dancing skulls and all.
Another highlight is the tricksy 20,000 Lums Under the Sea levels, which parody both Jules Vernes and Splinter Cell. There are areas where a green-visored Rayman must swim through tight tunnels while avoiding spotlights and enemy sightlines, and stealth his way through simple puzzles involving switches, mines and traps.
All of the levels are better with friends involved, and up to four players (five on Wii U) can essentially drop in and drop out at any time. But the lack of the GamePad controller for non-Wii U versions is sometimes a problem. Ubisoft has done its best to replicate the touchscreen Murphy character's actions for other systems by having him move automatically and be operable with the simple press of a button at the right time. But this removes some of the fun of frantically looking from screen to screen to balance what's happening on both, and of performing Murphy's movements and actions yourself (such as firing a slingshot, re-arranging platforms, or tickling and swatting away enemies).
You also lose some of the precision gained by controlling the character directly with a fingertip. In one level Murphy must eat through a solid section of cake to create a tunnel for the players to follow. But the timing when he's automatically moving on PS3/Xbox 360 versions is less precise - I had to restart several times after munching through the level too far and getting drowned in syrupy lava.
The most enjoyable levels in the game remain the music-themed stages, where every jump, every punch, every glissando down a zip-wire is designed to fit perfectly with the game's backing soundtrack. The Rayman Legends demo on Wii U already includes Ram Jam's rendition of Black Betty, and later levels include a Mexican-themed Eye of the Tiger on kazoos and a version of Anthrax's Antisocial.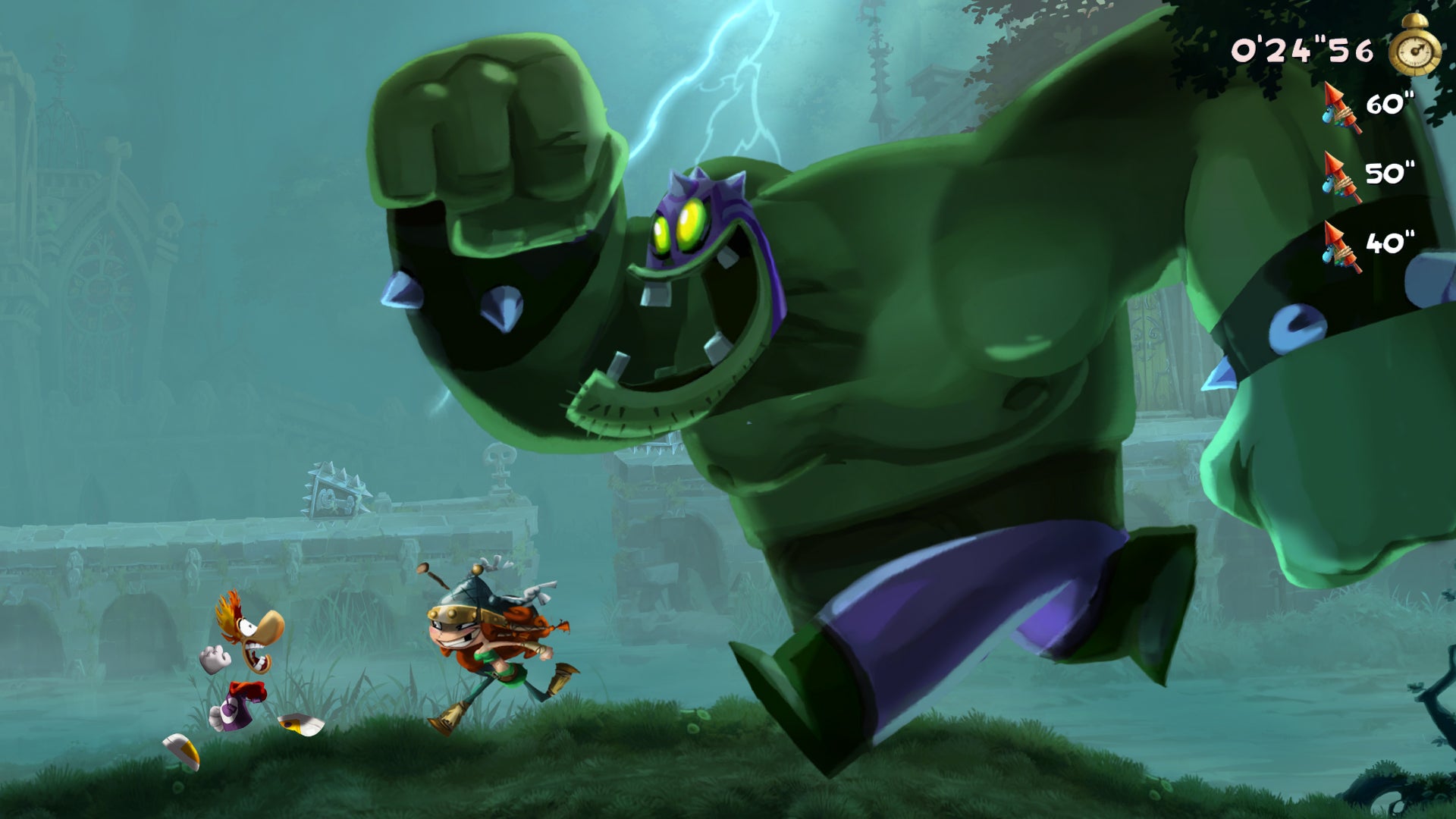 Rayman Legends is now finally finished, and "will not be delayed again!" Ancel jokes at one point to the crowd. The game is currently going through various stages of submission with platform holders and is due on shop shelves in a little over a month. It's been a long road for him and his team, but the final product feels like the wait will have been worthwhile.
"In the long run, it's a better thing," Morel concluded, thinking back to the torrent of anger Ubisoft faced from Wii U owners when the delay was announced. "Everyone was asking when we showed it on Wii U why we were not bringing it to PS3 and Xbox 360, especially after they bought Rayman Origins for those systems. So we thought, at least some people will be pleased by the decision.
"It would have been easy to say 'let's just push the game on the shelf and wait for it to be released later, but everyone saw it as an opportunity. We're really proud of the game we have now. It was good in January but now it's even better. I hope players will forgive us when they have the final game in their hands."
This article is based on a press trip to Ubisoft's offices in Montpellier. Ubisoft paid for travel and accommodation.
Will you support Eurogamer?
We want to make Eurogamer better, and that means better for our readers - not for algorithms. You can help! Become a supporter of Eurogamer and you can view the site completely ad-free, as well as gaining exclusive access to articles, podcasts and conversations that will bring you closer to the team, the stories, and the games we all love. Subscriptions start at £3.99 / $4.99 per month.