Watch: We made etoile blanche from The Witcher 3: Blood and Wine
Pasta point of no return.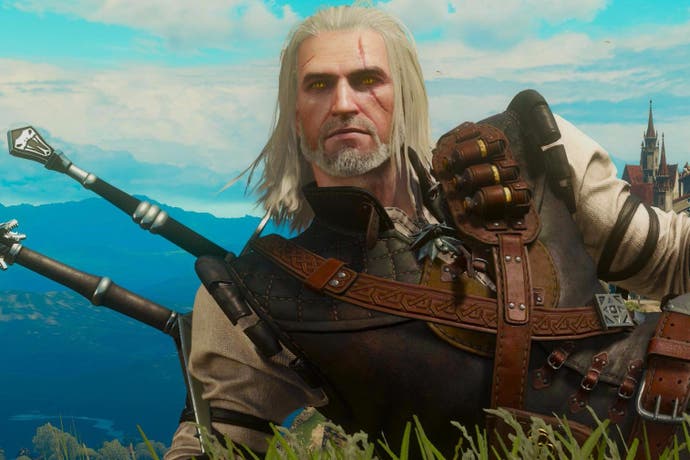 It's a new year, which means lots of people are turning to diet and exercise to help shed the weight gained over the festive period. Not me apparently; today I fried some turkey in oil and then added a whole bunch of ricotta cheese to the mix.
Which is to say, in case you hadn't guessed already, that I've recreated another video game recipe in a small, rubbish kitchen. This week's edition comes direct from The Witcher 3: Blood and Wine - it's Ra'mses Gor-Thon's recipe for "etoile blanche" pasta. You can see how I got on in the video below and, should you fancy trying it out for yourself, you can find the (slightly abusive) recipe pulled straight from the game below that.
Ra'mses Gor-Thon's recipe for "etoile blanche" pasta
Ingredients:
1 hearty scoop of thick yogurt (preferably Gemmeran style)
1 handful of chanterelles
1 glass of red wine, semi-dry
1 turkey breast
Tagliatelle pasta, to taste
6 cherry tomatoes
1 bunch of arugula
1 Zerrikanian bouquet garni (the kind with exotic herbs and spices)
Dun Tynne olive oil
1 small bowl of ricotta
Salt and pepper
2 cloves of garlic
method
Rub the turkey breast with salt, then immerse in a marinade made of the yogurt, Zerrikanian bouquet and crushed garlic. Leave in a cool place for at least two hours.
Boil the chanterelles till they are soft, but don't make jam out of them - remember, al dente, you fool!
Prepare the tagliatelle in the same way. If you make mush here, you might as well hang up your apron, for you're no chef.
Once the turkey's taken on the bouquet's fragrance, throw it in a pan with the heated olive oil.
Pour in the wine - once it's boiled off, toss in the pasta. Let it fry for a bit.
Cut the cherry tomatoes in half and add them to the noodles. Give it all a good peppering.
Add two tablespoons of ricotta - mix thoroughly.
Plate the dish and decorate with the arugula.