Video: 6 military baddies in need of a career change
Plus more from Outside Xbox.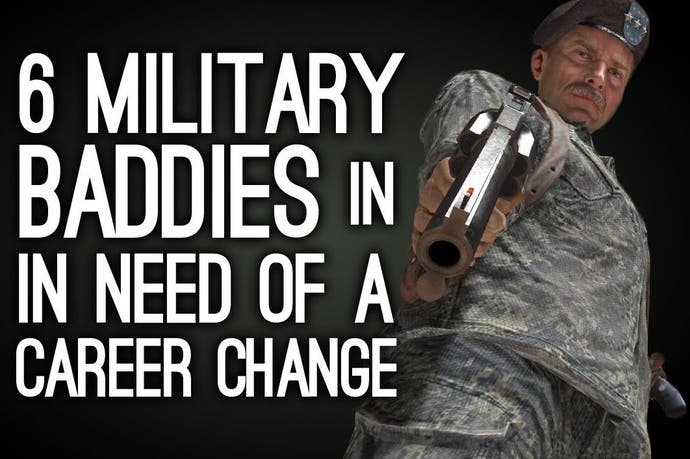 Like appearing on a reality TV show or shopping on a Black Friday, there is something about rising to the top of a military organisation in a videogame that brings out the worst in people. Consider the megalomaniacal officers below who are well overdue a chat with a careers advisor.
My favourite part of making the video above was revisiting Modern Warfare 2 and noticing how in mission two US Army bigwig General Shepherd hauls you off the floor, shouts "Rangers lead the way!" in your face, then strides manfully off into the bushes.
I similarly enjoyed a co-op session of Lara Croft and the Temple of Osiris, a four-player sequel to 2010's Lara Croft and the Guardian of Light, in which the Tomb Raider and her companions tackle giant scarabs, zombie mummies and ball-rolling puzzles.
I play as Lara and Mike is legit Ancient Egyptian god Horus in this Xbox One gameplay. Our special abilities are respectively grappling with a hook and shooting lasers with a giant magic staff. Fair?
Finally, Show of the Week sizes up Telltale's talky, episodic Game of Thrones: Iron From Ice, whose first instalment came out this week. Outside Xbox royal correspondent Mike Channell also appraises demonstrably dreadful video game kings who still can't hold a candle to Westeros' own slimy King Joffrey.
That's all for now from Outside Xbox. Thank you for your attention and if you would like to give us even more, discover further videos at outsidexbox.com.