UK chart: Borderlands 2 edges top spot
F1 2012, PES 2013 arrive just behind.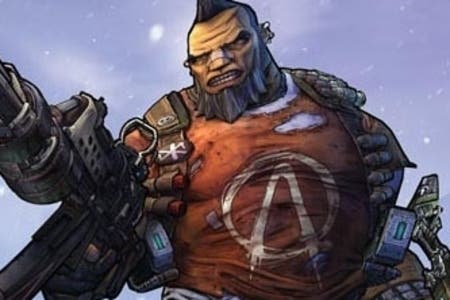 The brilliant Borderlands 2 has finally dethroned Sleeping Dogs to take this week's UK all-format chart number one.
Two other new entries filed in neatly behind: F1 2012 was second, while PES 2013 launched in third.
Sleeping Dogs had to settle for fourth, ahead of Lego Batman 2 and the new PlayStation Vita-exclusive LittleBigPlanet.
Tecmo's Dynasty Warriors and One Piece mash-up One Piece: Pirate Warriors was the only other new entry to reach the chart. It boarded the top 40 in 34th place.
Also released last week: Cumberbatch-free sleuth game The Testament of Sherlock Holmes (Benedict, you were robbed at the Emmys) and DS keyboard-toting edutainment title Learn with Pokémon: Typing Adventure. Neither made the chart.
The full top 40 lies below.
| This Week | Last Week | Title | Platform(s) |
| --- | --- | --- | --- |
| 1 | New entry | Borderlands 2 | PC, PS3, Xbox 360 |
| 2 | New entry | F1 2012 | PC, PS3, Xbox 360 |
| 3 | New entry | PES 2013 | PC, PS3, Xbox 360 |
| 4 | 1 | Sleeping Dogs | PC, PS3, Xbox 360 |
| 5 | 3 | Lego Batman 2: DC Super Heroes | DS, PC, PS2, PS3, PSP, Wii, Xbox 360 |
| 6 | New entry | LittleBigPlanet | Vita |
| 7 | 4 | New Super Mario Bros. 2 | 3DS |
| 8 | 2 | Tekken Tag Tournament 2 | PS3, Xbox 360 |
| 9 | 7 | Guild Wars 2 | PC |
| 10 | 10 | Max Payne 3 | PC, PS3, Xbox 360 |
| 11 | 5 | London 2012: The Official Video Game | PC, PS3, Xbox 360 |
| 12 | 8 | Dead Island: GOTY Edition | PC, Xbox 360, Xbox 360 |
| 13 | 21 | The Elder Scrolls 5: Skyrim | PC, PS3, Xbox 360 |
| 14 | 12 | Lego Harry Potter: Years 5-7 | PS3, Wii, Xbox 360 |
| 15 | 13 | Mario & Sonic: London 2012 Olympic Games | Wii |
| 16 | 6 | The Sims 3: Supernatural | PC |
| 17 | 27 | Skylanders: Spyro's Adventure | 3DS, PS3, Wii, Xbox 360 |
| 18 | 15 | Ghost Recon: Future Soldier | PC, PS3, Xbox 360 |
| 19 | 11 | NHL 13 | PS3, Xbox 360 |
| 20 | 40 | Dirt Showdown | PC, PS3, Xbox 360 |
| 21 | 35 | Forza 4 | Xbox 360 |
| 22 | 18 | The Amazing Spider-Man | 3DS, DS, PC, PS3, Wii, Xbox 360. |
| 23 | 14 | Call of Duty: Modern Warfare 3 | DS, PC, PS3, Wii, Xbox 360 |
| 24 | Re-entry | uDraw Studio: Instant Artist | PS3, Wii, Xbox 360 |
| 25 | 23 | Battlefield 3 | PC, PS3, Xbox 360 |
| 26 | 24 | The Sims 3 | PC, PS3, Xbox 360 |
| 27 | 22 | Batman: Arkham City | PS3, Xbox 360 |
| 28 | 26 | Call of Duty: Black Ops | PC, PS3, Wii, Xbox 360 |
| 29 | 36 | Battlefield 3 | PC, PS3, Xbox 360 |
| 30 | 17 | Darksiders 2 | PC, PS3, Xbox 360 |
| 31 | 19 | FIFA 12 | PS3, Xbox 360 |
| 32 | 33 | Super Mario 3D Land | 3DS |
| 33 | 29 | Grand Theft Auto Episodes - Liberty City | PS3, Xbox 360 |
| 34 | New entry | One Piece: Pirate Warriors | PS3, Xbox 360 |
| 35 | 20 | Sniper Elite V2 | PS3, Xbox 360 |
| 36 | 9 | Madden NFL 13 | PS3, Xbox 360 |
| 37 | 25 | Transformers: Fall of Cybertron | PC, PS3, Xbox 360 |
| 38 | 28 | Sonic Generations | 3DS, PS3, Xbox 360 |
| 39 | 32 | Assassin's Creed: Revelations | PC, PS3, Xbox 360 |
| 40 | Re-entry | Moshi Monster: Moshling Zoo | DS |