Ubisoft: I Am Alive "one of our most polarising games ever"
Have PSN and XBLA peaked?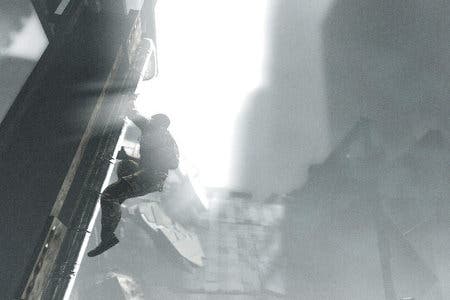 Downloadable post-apocalyptic survival game I Am Alive is one of the most polarising Ubisoft games ever, the French company has said.
I Am Alive, which launched on Xbox Live Arcade just over two weeks ago, received review scores as high as 10/10 and as low as 4/10. Eurogamer's I Am Alive review returned an 8/10. The game has a Metascore of 70.
Ubisoft VP of Digital Publishing Chris Early told Eurogamer the up and down reaction to the game was the result of some not getting on with its puzzle platforming mechanics, which involve managing stamina while climbing up wrecked buildings.
"As you've probably seen, our critical reaction has been from very high to very low," he said. "It's been one of the most polarising titles we've ever launched. That's partly in reaction to the game mechanic. Some people love that type of platforming, puzzling game mechanic. And some people particularly don't.
For those who love it, it's an excellent piece of content. It's well crafted. It's graphically exquisite.
"For those who love it, it's an excellent piece of content. It's well crafted. It's graphically exquisite. It's a very gritty feeling, because that's what you're up against - you're up against a guy trying to survive in a post-apocalyptic city and stay alive."
I Am Alive launched on XBLA as a timed exclusive as part of Microsoft's House Party promotion. It launches on PlayStation Network on 4th April. A potential PC release is in doubt.
When asked how well I Am Alive had sold, Early declined to offer an exact sales number, but did offer: "It's done well, yes."
According to the Ubisoft executive, both Xbox Live Arcade and PlayStation Network, online services that have been running for over half a decade, continue to grow - and continue to offer companies such as Ubisoft a solid platform to achieve strong digital sales.
"I don't believe they've peaked," he said. "What we've seen over time is the production quality of the games that are going into those platforms has evolved considerably. This is no different for XBLA and PSN than it was for iPhone, Android or Facebook games: the beginning titles are of a particular complexity and development and development budget, and as time goes on people get more expertise on the platform, more goes into the creation of the games, the games tend to have either a bigger budget to create or more to build off of from previous work, so the games become more robust.
"What we see today is the quality bar for games on XBLA and PSN is significantly higher than it was five years ago. As a result, it's perhaps a little tougher for some indie developers to get there, which is why first parties or a variety of sources look for creating an indie channel or an indie competition as a way to get more of that newer and fresher content to be able to be discovered by players."
Early insisted that Ubisoft's recent PSN and XBLA games were as successful as older titles - "if not more so". One of these, the superb God simulator From Dust, sold half a million copies across PSN and XBLA.
Why is this the case? Simply because more PlayStation 3s and Xbox 360s are in homes across the globe, Early said.
"It comes back to the game quality," he explained. "From Dust was a great, high quality game that rated well and sold exceptionally well. It had the advantage of selling to many more installed consoles than was there three years ago. So almost by nature of the same game, same release three years apart in time, we're going to sell more today."
If you transported a game that was there at the release of XBLA to today, would it fare as well as it did then? Perhaps not, because of what it's up against.
Quality, according to Early, is key. "The difference however is there is more competition today than there ever was before. The quality bar is higher. So if you transported a game that was there at the release of XBLA to today, would it fare as well as it did then? Perhaps not, because of what it's up against."
And equally important is when a game is released. "There's even some questions of timing of marketing at the digital level," said Early. "We've had other games that have been as equally as high rated as From Dust from a critical standpoint but haven't sold near as well. The question we have to ask then is, why is that? Is it we just missed with the market? We generally say not, but then I would wonder what else happened? Did we happen to release it during an unfortunate act of God time when everybody was out of power or there were big storms or it was really sunny and no-one stayed at home to play games?"
Early said one one of the challenges the industry faces is working out how to make gamers aware that digital games are available. It's easy, he said, to lose track of what's coming out on PSN and XBLA, and as a result, miss out on a great game entirely.
"When you're looking at XBLA or PSN, where there are multiple titles coming out each week, and the discovery mechanisms for three weeks from now to go back and look at what should you be playing that just released... I'm travelling this week. I have to actually go back and look. I'm not going to find out any other way what released this week. In that week that I happen to be off on school holiday and I don't pay attention to what's releasing, how am I getting back there?
"This is one of the challenges we face as an industry. How do we help you, the player, discover what content is going to be best for you?"