Ubisoft ditches Uplay Passport after Assassin's Creed 4 furore
"Assassin's Creed fans, we heard you loud and clear."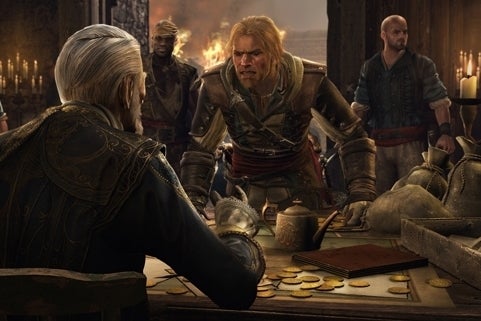 Ubisoft has axed its Uplay Passport scheme after Assassin's Creed 4 players complained about locked out content.
A Uplay Passport code was included in new copies of Assassin's Creed 4, and was required to access multiplayer and unlock the Edward's Fleet feature in single-player.
As reported by Eurogamer earlier this week, Edward's Fleet is the latest version of the series' usual resources management mini-game, which has been present in every game since Brotherhood. It's the mode where you send off recruited assassins to do your bidding, weigh up the risk and collect a proportionate financial reward.
This time around you send off ships captured while exploring the seas, but the mechanics are otherwise similar to previous incarnations. There's a new currency of gems which can help missions along, and you can aid risky trade routes by initiating battles and manually sending out fire barrels to sink foes.
Assassin's players complained about the system being locked behind an online pass - the system used by some publishers to combat second hand sales - because it had become a traditional part of the series' single-player experience. Without the mode, players will miss out on the financial rewards it brings throughout the campaign. And it's fair to say that there are a lot of things to buy in Black Flag - upgrades for Edward, for your ship, ammunition for both and a number of other upgrades for more spoilery things.
Now, Ubisoft has not only removed the Uplay Passport requirement from Assassin's Creed 4, but ditched the scheme entirely.
"Assassin's Creed fans, we heard you loud and clear," communications manager Gary Steinman wrote on the Ubisoft blog.
"We listen to our community and understand that there are concerns over some players' ability to access this feature, so we have decided to eliminate the cost of the Uplay Passport for Black Flag. This ensures that everyone will be able to use the companion app, Edward's Fleet, online multiplayer and available bonus content at no additional cost."
If you don't already have one, you can download a Uplay Passport for Black Flag for free from Xbox Live or PlayStation Network. If you've already bought one, contact your local Ubisoft support.
"The Uplay Passport program was initiated as a means of giving customers full access and support for online multiplayer and features, along with exclusive content, bonuses and rewards," Steinman continued.
"However, games today are blurring the line between offline and online, between what is single-player and what is multiplayer. Based on that and on the feedback we received from you, we recognised that Passport is no longer the best approach for ensuring that all our customers have the best possible experience with all facets of our games.
"We will keep listening to your feedback. We hope the change we're making today alleviates any concerns you have about using the Edward's Fleet feature or future online features of Ubisoft's games."