Troy Baker: I didn't voice Rhys in Borderlands 3 because Gearbox "wouldn't go union"
UPDATE: Gearbox, SAG-AFTRA respond.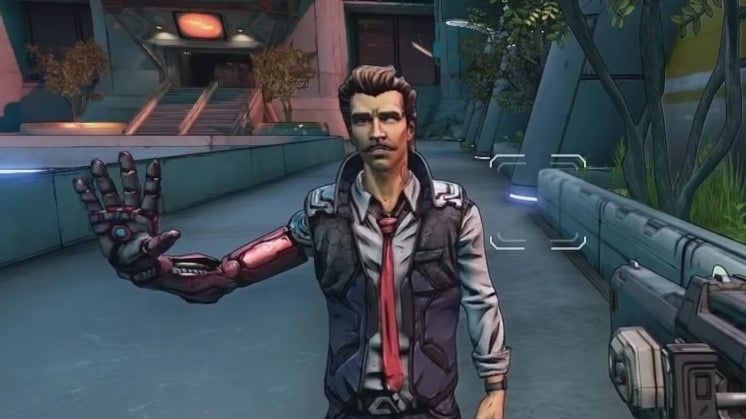 UPDATE 1st October 2019: Gearbox and SAG-AFTRA have responded to Troy Baker's recent comments about why he didn't voice Rhys Strongfork in Borderlands 3.
In a statement issued to Eurogamer overnight, Gearbox stressed that Texas law means the company is unable to refuse working with someone because of their union status. Crucially, however, Gearbox does not deny Baker's version of events.
Here's the statement:
"Troy is an exceptional talent and we were disappointed that he declined to partner on Borderlands 3 after being offered the part. We wish him the best and hope he knows the offer to collaborate with him still stands. Gearbox is a Texas company and is bound by Texas law - which means that a person cannot be denied employment because of membership or non-membership in a labour union or other labour organisation.
"As a talent-owned and talent-led organisation, Gearbox enthusiastically works to ensure our pay and working conditions meet or exceed union standards. We also believe strongly in hiring local voice actors whenever we can which is why we're thrilled Troy's career really took off after working with us."
SAG-AFTRA, the union in question, also issued a statement (thanks, Kotaku), revealing it tried to sign a deal with Gearbox for voice actors working on Borderlands 3 but failed.
Here's the statement:
"We applaud any member who stands up for workplace fairness and the integrity of their creative work. It is a courageous decision to act in the best interests of one's fellow SAG-AFTRA members and this honors all working people.
"The misguided decision by Gearbox to deny their performers the opportunity to have fair union wages, a safe workplace and the possibility of health care coverage for their families, is unfortunate.
"We attempted to sign Gearbox to a union agreement. They refused and disengaged from those talks.
"We look forward to hearing from any Gearbox performer who is interested in the many protections a union agreement offers actors."
ORIGINAL STORY 30th September 2019: Troy Baker has said he didn't voice Rhys Strongfork in Borderlands 3 because Gearbox "wouldn't go union".
Speaking to VG247, the voice actor said he wanted to reprise his role as Rhys, the boss of the Atlas Corporation from Telltale's much-loved Tales from the Borderlands series, but he was prevented from doing so because of Gearbox's position on the Screen Actors Guild ‐ American Federation of Television and Radio Artists (SAG-AFTRA), the union representing voice actors in the US.
Baker's explanation of events contradicts the explanation of events suggested by Gearbox chief Randy Pitchford, who tweeted in April to say Baker "turned it down".
You'll have to ask Troy. I was told by the audio director that he turned it down. Fortunately, with how Rhys appears in the game, I don't think it actually matters at all. You'll see for yourself when the game comes out and you may disagree with me on that or not.

— Randy Pitchford (@DuvalMagic) April 10, 2019
"So they came to me, and they were like, 'Do you want to do this?' " Baker told VG247.
"Which I said, 'Absolutely.' And then they made it impossible for me to do the role. It had nothing to do with money, it had nothing to do with money. They just simply would not go about doing it the way that we needed it to be done. So then it was like, I never said no."
Asked for clarification, Baker added:
"No, it was simply a matter of they wouldn't go union. And I can't do a non-union gig. And without getting too deep into the weeds of that, we had long conversations about this. We always knew going into it, that this was going to be the thing. They were going to take these characters, and put them from the Tales from the Borderlands series from Telltale, into Borderlands proper. I've been waiting for this call. They were like, 'Do you want to do this?' And I said, 'Yes.' They never, because they would never move from that position. I'm not mad. It's invariably a completely different character, but it still stings."
SAG-AFTRA members cannot accept work on a project that hasn't signed a deal with the union, and so Baker had to wave the chance to play Rhys goodbye. Ray Chase, the voice actor perhaps best known for playing Noctis in Final Fantasy 15, stepped in.
I'm honored to announce that I play mustache Rhys in Borderlands 3.

I played all of TftB and greatly admired @TroyBakerVA's hilarious performance - his work is a true inspiration to me! I'm not a perfect voice match, but a new interpretation.

I sincerely hope you enjoy! pic.twitter.com/nbgESmBOXv

— Ray Chase (@RayChase) May 1, 2019
We've asked Gearbox for comment.