Titanfall will remain exclusive to Xbox One, 360 and PC forever
UPDATE: Respawn co-founder says this only applies to "this release," not the series.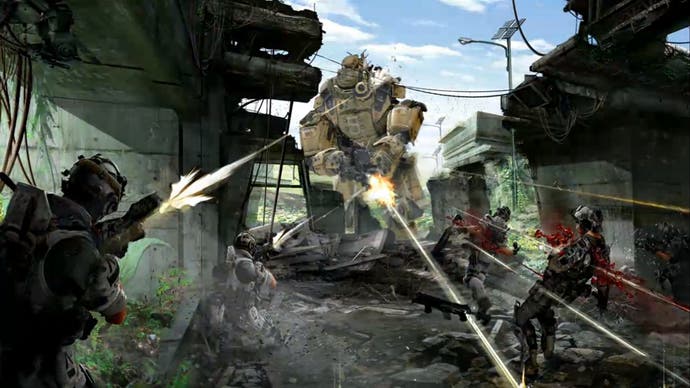 UPDATE: Respawn co-founder Vince Zampella has suggested that Titanfall - or at least a Titanfall sequel - could come to PS4 after all.
When asked on Twitter if Respawn would make PS4 games in the future, Zampella replied, "Of course we will, just not the first Titanfall."
Furthermore, when asked, "does the new announcement regarding Titanfall exclusivity to Xbox mean the Titanfall series or this release?" Zampella replied, "Just this release."
Perhaps this means we'll get a series collection that includes the first Titanfall, the way the first Mass Effect eventually came to PS3 as part of the Mass Effect Trilogy years down the line. This could take a while though. We're following up with EA to try to sort out exactly what this exclusivity agreement entails.
ORIGINAL STORY: Those hoping for a PS4 port of Titanfall are in for a disappointment as EA confirmed in a financial call that Respawn's mech shooter will remain exclusive to Xbox One, 360 and PC forever.
"It's exclusive only, for the life of the title, on Xbox One, and Xbox 360, and PC," said EA CFO Blake Jorgensen.
Elsewhere, EA announced that Plants vs. Zombies 2 has already surpassed the lifetime sales of its predecessor, with over 25 million copies shifted on iOS devices since its August launch.
For the most part, EA's finances are business as usual with its total GAAP net revenue of $695 million for the quarter ending 30th September only a slight decrease from $711 million for the same time last year.
EA's biggest shakeup, however, is its cancellation of its Command & Conquer reboot, a game that had already been sold as an alpha. Somehow EA avoided bringing this up and amazingly no one asked about it during the Q&A.